Cardi B Joins Remix for Fendi Da Rappa's Viral 'Point Me 2'
The Bronx emcee continues to embrace new female artists.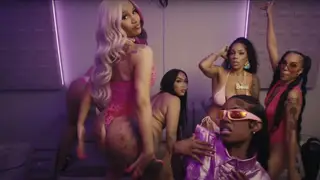 Cardi B is earning praise on social media after hopping on the remix to rapper Fendi Da Rappa's breakout single "Point Me To The Sluts."
The track marks yet another collaboration for the Bronx emcee, who's appeared on several recent hot records featuring new artists. Last month she teamed up with Latto for "Put It On Da Floor," and in 2022 GloRilla for "Tomorrow 2."
Cardi has received many positive remarks regarding the new record, including one Twitter user who wrote, "Hear Me Out... Cardi B has the potential to really put other female rappers into mainstream markets when she jump on remixes. She elevates them with her verses and star power."
Another person commented, "cardi b is on one of the greatest featured runs that we've witnessed in a long time. shake it, tomorrow 2, put it on da floor again and now #PointMe2. GIVE MAMAS HER 10s!!"
One supporter even felt, "Once Cardi B releases another classic album in 2023… She'll end up being a top 5 woman rapper once it's all said & done respectively," noting that "Her features are too consistent."
Charlamagne Tha God recently commended the "Bodak Yellow" rapper for "helping to make the artist big and helping to make the music big."  He added, "Cardi don't just do the verse. She do the video, she go Live with them, talk about this that muthaf–ka, tweet about em — that's what you supposed to do."
Fendi Da Rappa initially gained traction with her first mixtape, Str8 from Da Raq, in 2021. The song is a follow-up to the Chicago native's viral "Juke Song." Check out the visual for "Point Me 2" down below.