DOJ Will Review Memphis Police After Tyre Nichols' Killing
Memphis Mayor Jim Strickland said in a statement, "We are heading down the right path."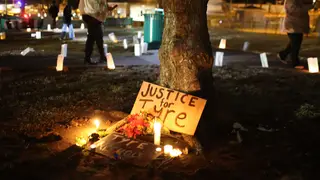 The U.S. Department of Justice will conduct an external review of the Memphis Police Department after Tyre Nichols' death.
According to a press release from the mayor of Memphis Jim Strickland, an external review will be conducted by the International Association of Police Chiefs and the DOJ's Collaborative Reform Initial Technical Assistant Center. Strickland said in the statement, "The independent, external review by these agencies will include an assessment of MPD's Special Units and use of force policies. While we no doubt have a long way to go on the road to healing, hopefully through our actions, citizens will see we are working to be better and that we are heading down the right path."
On Jan. 7, Nichols was pulled over by Memphis police for reckless driving. According to authorities, the traffic stop led to a "confrontation" and Nichols fled the scene on foot as he was pursued by officers. Allegedly, another confrontation occurred and he was beaten by the officers. Nichols was only 100 yards away from his mother's home. He was taken into custody and complained of having shortness of breath.
Nichols died three days later (Jan. 10) in the hospital. His family said the officers were in an unmarked vehicle when they pulled Nichols over and that he went into cardiac arrest and suffered kidney failure as a result of the officers beating him.
The Nichols family is being represented by noted civil rights attorney, Ben Crump. On Jan. 24, Crump reported an independent autopsy determined Nichols died from "extensive bleeding caused by a severe beating." The Memphis Police Scorpion unit, some of whose members were in the footage, has been permanently disbanded. Scorpion stands for Street Crimes Operations to Restore Peace In Our Neighborhoods and has three teams of an estimated 30 officers. The unit has been inactive since Nichols' arrest on January 7.
Five officers, Tadarrius Bean, Demetrius Haley, Emmitt Martin III, Desmond Mills Jr., and Justin Smith, are charged with the following: one count of second-degree murder, aggravated assault-acting in concert, two counts of aggravated kidnapping, two counts of official misconduct, and one count of official oppression.  Last week, according to NBC News, Preston Hemphill, a sixth officer, and the only white officer who was connected to Nichols' arrest and ultimate death, was "departmentally charged and terminated."