Aaliyah's Estate Issues Stern Warning On 'Individuals' Who 'Leech Off' Her Legacy
The author of a new unauthorized biography reacts to the cautionary statement.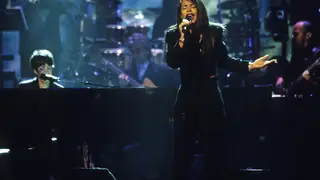 This month marks 20 years since Aaliyah Dana Haughton died in a plane crash. The singer never stopped being a force in pop culture and the details of her life and untimely death have been discussed and examined by the media many times over. As another unauthorized book about her gets ready for release, Aaliyah's estate has issued a sternly worded statement cautioning anyone who writes about her without authorization.
"Protecting Aaliyah's legacy is, and will always be, our focus. For 20 years we have battled behind the scenes, enduring shadowy tactics of deception with unauthorized projects targeted to tarnish," the estate wrote. "We have always been confused as to why there is such a tenacity in causing more pain alongside what we already have to cope with for the rest of our lives."
The statement continued, "Although we will continue to defend ourselves and her legacy lawfully and justly, we want to preempt the inevitable attacks on our character by all the individuals who have emerged from the shadows to leech off of Aaliyah's life's work. Ultimately, we desire closure and a modicum of peace so we can facilitate the growth of the Aaliyah Memorial Fund and other creative projects that embody Aaliyah's true essence, which is to inspire strength and positivity for people of all creeds, races and cultures around the world."
See the full statement below:
The statement comes just ahead of the August 17th release of Kathy Iandoli's book Baby Girl: Better Known as Aaliyah. In the book, the music journalist, who has written for several outlets including VIBE, The Source, BET.com and others, claims the singer took sleeping pills before getting on the plane that ultimately crashed and ended her life. Some outlets, while reporting on the passage from the book, described the late singer as being "drugged." Iandoli says the "drugged" angle is misreported.
According to Simon and Schuster, the "book was written without the participation of Aaliyah's family/estate." Aaliyah's estate didn't directly mention Iandoli in its statement.
The statement also called out an unnamed "unscrupulous endeavor to release Aaliyah's music without any transparency or full accounting to the estate."
On And On And On
According to Billboard back in January, only her debut album Age Ain't Nothing But A Number, is available on streaming services. Fans of the late singer have continued to push for the release of her additional music, including her album, One in a Million, and her 2001 self-titled album, Aaliyah — and now it may finally be happening.
Her music catalog has been under the purview of her uncle and founder of Blackground Records, Barry Hankerson, who told Billboard in an August 5 interview that One in a Million will be released on streaming services August 25. ΛΛLIYΛH and I Care 4 U will follow on Sept. 10 and Oct. 8, respectively.
Hankerson maintains the music was not released earlier because of objections from Aaliyah's mother Diane Haughton, who is his sister. Hankerson also revealed he has not spoken to his sister regularly since Aaliyah's death.
Diane Haughton or Aaliyah's estate have never publicly said they did not want to release her music.
According to USA Today, Aaliyah's estate said in a statement through an attorney they were "not made aware" of the future streaming releases.
The five-time Grammy nominee died at age 22, along with eight others, in a plane crash on the Abaco Islands of the Bahamas on August 25, 2001.