Stevie Stone Has a Tour Story You Won't Believe
Strange Music MC says new album, Malta Bend is his most personal.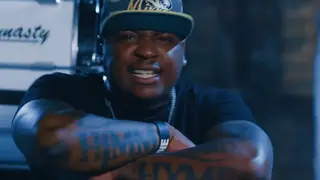 Since signing with Tech N9ne's Strange Music in 2009, Stevie Stone has come to be known as one of hip hop's most versatile hook men. Somewhere between Aerosmith and Nate Dogg, his signature sound has served as the catalyst for many a hit by the Kansas City-based label. 
Now, with his third studio album, Malta Bend which dropped earlier this month, the St. Louis-born spitter dives deep into his own family history to explain how his rural roots helped him become the man and the artist that he is today.
"If it wasn't for this segregated small town, there would be no me so I wanted to go all the way there," Stevie told BET.com in an exclusive conversation. "Malta Bend is a small, historically segregated town that my mother grew up in. My father who was a preacher came down there to preach and that's where they met. Songs like the title track 'Malta Bend' and 'Ambition and Motivation' really touch upon Malta Bend and tell a story of what my mother instilled in me as well as what she went through herself."
Stevie, who just wrapped up a tour with E-40 says despite its serious subject matter, Malta Bend still boasts the requisite club bangers.
"This album is a rollercoaster ride, but I'm just giving insight on why I am who I am. It's still a party, but there's a contrast and a serious point also," Stevie noted. "I really wanted it to show my evolution and the process I've gone through of becoming a better man, a better artist and just more experienced and more seasoned."
Being on tour with Tech N9ne, for example, is pretty much a guarantee that you'll see some…well, strange things, Stevie reflected. He then recalled one particular story that pretty much drops the mic on any other tales from the road.
"We were in Texas and Tech has a part [in his show] where he lets girls get up on stage and dance," remembered Stevie. and this one girl got up on stage and, some people spray out water and the fans eat it up because they're hot anyway," remembered Stevie. "This girl was actually on stage with her t**ty out spraying milk. At first people didn't realize what it was so they were like 'Aye!' And then they realized what it was and everybody was covering up and people were running. I was actually out in the crowd watching the set and was like 'Whoa!' Being on the road with Tech, it got to a point where it wasn't crazy anymore."
Malta Bend is available for download now.
Rewind! Watch Tech N9ne name his Top 5 hip hop albums in the BET.com exclusive video below.
BET.com is your #1 source for Black celebrity news, photos, exclusive videos and all the latest in the world of hip hop and R&B music.
(Photo: Strange Music INC)