TLC Announces the Release Date of Their Fifth and Final Album
The project was funded by fans, too.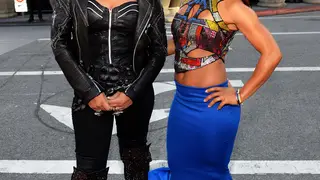 Back in 2015, something incredible happened for fans of TLC and their particular blend of soul-infused R&B.
Fans of the iconic girl group responded to a Kickstarter campaign to raise money for their final album, with even the likes of Katy Perry backing it, helping the two surviving members of TLC raise $150,000 in three days. Now, two years later, that album has officially returned to the spotlight, with T-Boz and Chilli's management team finally confirming it'll be released this summer.
After racking up $430,255 from 4,000 fans eager to hear their new music in 2015, many thought that TLC was scamming them, igniting the trending hashtag of #TLCIsGoingToJailParty. Thankfully, the group's manager has since spoken up to confirm that the project will finally be out this June.
In his announcement to TLC fans via the Kickstarter campaign, manager Bill Diggins shared a lengthy update explaining the delay, stating, "The pursuit of excellence is never an easy task and always takes longer than expected."

"Let me explain why this album has taken longer than expected," Diggins writes. "When we decided to do the album, it was based on a number of emotional decisions and one of the biggest was how you inspired T-Boz and Chilli by your emails and texts asking them to do another album."
He then shares that, at the time of the Kickstarter's conception, there was no music yet created for them to build off of, and touring schedules, among other things, resulted in the delay.
"...The simple fact is that T-Boz and Chilli were inspired to make a record that they could be proud of and they would not settle for less and sometimes you just cannot rush art," Diggins adds. "They demanded of themselves a record that would stand up to the great body of work created in the past and that you would be proud of; because your belief and support is the greatest form of love and we want you to be proud."
Take a look at TLC's latest update to fans in full here.