Ebony Sends Apology to RNC After Editor's Tweets Cause Firestorm
Ebony Magazine has issued an apologizy to the RNC and Black conservatives for an editor's tweet that caused a media firestorm.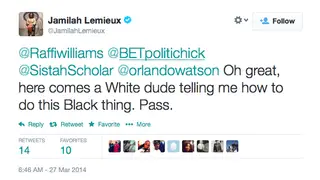 Ebony Magazine has issued an apology to the Republican National Committee and Black conservatives in response to a Twitter exchange between an editor and an RNC deputy press secretary. 
On Thursday, March 27, Ebony.com senior editor Jamilah Lemieux wrote that she was not interested in learning more about a Black conservative magazine that Dr. Ben Carson and conservative commentator Armstrong Williams are creating. 
The press secretary Raffi Williams responded, "wish you knew less? hoped you would encourage diversity of thought." Lemieux tweeted back, "Oh great, here comes a White dude telling me how to do this Black thing. Pass." 
Williams is actually Black and the son of Fox News commentator Juan Williams. Lemieux also compared conservatives to roaches.
RNC chairman Reince Preibus in a letter to Ebony's editor-in-chief demanded an apology from Lemieux and the publication for her comments and for not encouraging "diversity of thought." 
"Ebony strongly believes in the marketplace of ideas. As the magazine of record for the African-American community, Lemieux's tweets in question do not represent our journalistic standard, tradition or practice of celebrating diverse Black thought," the post states.
Read the full apology here. 

BET Politics - Your source for the latest news, photos and videos illuminating key issues and personalities in African-American political life, plus commentary from some of our liveliest voices. Click here to subscribe to our newsletter. 

Follow Natelege Whaley on Twitter: @Natelege.

(Photo: Jamilah Lemieux via Twitter)