Here's Why Tiffany Haddish Refused To Audition For 'Get Out'
She says she has no regrets about the decision.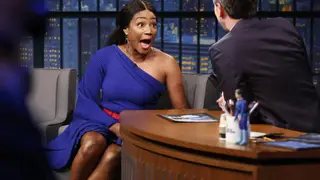 The cast of the Oscar-winning film Get Out can arguably be remembered by just about every patron who saw the movie, but did you know that Tiffany Haddish could have been a part of the star-studded ensemble?
In a recent interview, the funny lady said that she was given the chance to audition for the film, but firmly declined for one specific reason.
During a promo stop on Monday's Late Night With Seth Meyers, The Last O.G. actress revealed that she said "no" to Jordan Peele's massively successful directorial debut for one reason: she doesn't do scary movies.
"He let me read it and asked me to audition," she said. "I was like, 'Aw, man. Look, I don't do scary movies, dog. I don't do that. You know, that's demonized kind of stuff. I don't let that in my house."
She added that even after the history-making director assured her that demons were, in no way, involved in the film's script, she still decided to walk away.
"I was like, 'That's a white man trying to take people's souls out their body and opening up brains. That sounds like some demon stuff to me. I'm cool on that,'" she remembered telling him. "I'll watch it in the daytime, but I'm not going to be in it."
Watch her dish more on her disdain for horror films, below: