18-Year-Old Beat Her Father To Death With A Hammer After Being Fat Shamed And Verbally Abused
Ameera Stokes has a history of mental illness and tried to commit suicide six times.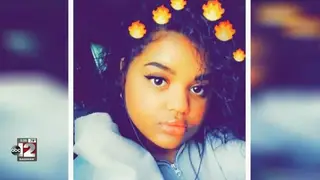 An 18-year-old Indiana woman was arrested on Mother's Day after confessing to beating and stabbing her father to death.
According to Mt. Morris Township police, Ameera Corena Stokes, of Muncie, Indiana, called 911 before 6 a.m. on Sunday and said she killed her father. When police arrived on the scene, they found Donald Stokes in the stairwell to the basement, reported MLive.
Donald Stokes appeared to have suffered from blunt force trauma from a hammer and a stabbing, said police.
Ameera Stokes was arraigned on a single charge of first-degree murder on Monday, May 15 in Genesee District Court.
According to Ameera's mother, Gretchen Brasher, the 18-year-old had a difficult life filled with abuse and trauma, reported ABC12.
Brasher explained that Ameera and her sister were sent to live with their father when their mother could not financially support them. 
"He was very verbally abusive. She had a belly, so he would tease her about being fat," she told ABC12. "He would like let her have an apple for dessert, while everybody else was having something better."
Soon after the girls were sent to their father's Brasher was injured in a car accident and got addicted to her pain medication. The drug addiction resulted in Brasher getting put in jail for several years.
While Brasher was in prison, Ameera, who was 13 at the time, tabbed one of her friends at an after school program. The teen spent years in a rehabilitation program, where she was released in February 2017. By this time, Brasher was out of prison and allowed Ameera to move in with her.
"She was talking in the last couple of months about how when things were going down, how she wishes she could just go to prison and that would ensure she had a roof over her head and she wouldn't have to worry about anything, it would be so much less stress and she wouldn't be a burden to anybody," Brasher told ABC12.
Brasher also said Ameera tried six times to commit suicide. She was admitted to a facility, but able to check herself out a little over a month ago.
"She told me she ran out of her medication about three or four days prior to Saturday," Brasher said. "The biggest mistake she made was going [to her father's]."
Brasher said she hopes Ameera will receive mental health treatment during her inevitable sentence.