Baltimore City States Attorney Marilyn Mosby Ordered To Appear In Court For Possibly Violating Gag Order
She is accused of discussing the controversial Keith Davis Jr. murder trial on a radio show.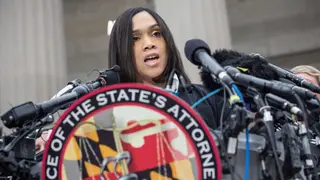 A Baltimore circuit court judge ordered Baltimore City State's Attorney Marilyn Mosby Tuesday (June 21) to appear in court on Aug. 12 to defend herself against charges of violating his gag order when she spoke about a murder case during a radio show, The Baltimore Sun reports.
Judge John S. Nugent filed the order after the public defender for accused murderer Keith Davis Jr., who Mosby's office is prosecuting for the fifth time on the same charge, filed a motion to hold Mosby in contempt after mentioning the case June 7 on WYPR's "Midday with Tom Hall" show.
Davis allegedly shot Kevin Jones 11 times while the victim was walking to work. Mosby's multiple prosecutions of Davis have sparked protests.
The prosecutor appeared on the radio show within an hour after Nugent's gag order went into effect, according to The Sun. But prosecutors in Mosby's office have argued in court that her comments were not intended to sway public opinion.
Mosby's office filed murder charges against Davis seven days after he was largely absolved of another incident on the same day of Jones' death. The police suspected Davis of robbing a cab driver and chased him into an auto garage where they fired 32 rounds at him. Detectives said they discovered a handgun in the garage. The State's Attorney's Office charged him with 15 felonies, including armed robbery and the possession of a regulated firearm.
Davis has been on trial over several years for allegedly killing Jones, a 22-year-old security guard at Pimlico Race Course in 2015, WBFF reports. Davis was tried two times in 2017. The first trial ended in a hung jury. In the second trial, Davis' guilty plea was overturned after a judge found that prosecutors withheld information.
His third trial ended in another hung jury. The prosecutor won a conviction in the fourth trial, but it was overturned. WBFF said Davis has always maintained his innocence, and his defense team has accused the police of planting a gun on him.
Radio host Tom Hall asked Mosby questions on a range of topics, including her multiple attempts to win a final conviction against Davis.
In her response, Mosby did not refer to Davis or Jones by name, The Sun reported. But she committed to advocating for Jones and other homicide victims in Baltimore, as well as mentioning some of the legal turns and twists in trying the case.
"Let me just be clear, I can't talk about the specifics of that case, but I can tell you that we are going to fight, and if a case has nothing substantively to do with the fact that we believe this is the individual who committed the offense, we're going to fight for justice for that family, and that's what I'll continue to do for every family in the City of Baltimore," The Sun quoted Mosby.
According to the Free Keith Davis website, he survived police officers firing at him 44 times in a West Baltimore garage and has endured years of wrongful incarceration. Davis' supporters accuse Mosby of protecting the officers and prosecuting Davis with tampered evidence.
The judge's gag order permits civil rights activist Deray Mckesson and Davis' wife, Kelly Davis, to continue to comment publicly on the case because of their First-Amendment rights.