Janelle Monáe Says Response Since Coming Out as Non-Binary Has 'Been Great'
The Glass Onion star recently received an award honoring her as an advocate for equality.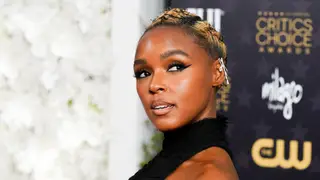 Last April, superstar musician and actress Janelle Monáe came out as non-binary on the Red Table Talk, saying, "I just don't see myself as a woman, solely. I feel all of my energy."
Glass Onion: A Knives Out Mystery star (who uses she/hers and they/them pronouns) told People that she's grateful for the positive response to sharing her truth.
"It's been great," Janelle said, adding, "And I say that because I think that there are a lot more discussions, and that's so important. I think that all of us want to walk in our truth. We're just trying to find a name to put with how we feel. And I think that's always great."
"I try to challenge people to listen. Yeah, you may not necessarily understand. But listening is such a free thing we can do. I think that by listening you can give somebody more compassion, more empathy, and that's just one more step [to] bridging that gap between us."
She added that embracing all sides of herself has influenced her art. "Being non-binary has opened up my mind in terms of the type of art I can make and where I can go, who I can be. I'm all about surprising myself and discovering something new."
The Wondaland singer recently accepted the seventh annual SeeHer Award, which honors actors who advocate for equality, defy stereotypes, and push boundaries.
According to People, in her acceptance speech Janelle said, "I try to make an effort in my work ... to highlight the ones who have been pushed to the margins of society, who've been outcast or relegated to 'the other,'" adding, "This is a deeply personal choice for me because I grew up to working-class parents: My mother was a janitor, my father was a trash man, and my grandmother was a sharecropper in Aberdeen, Mississippi."
"And it's personal because I am non-binary, I am queer, and my identity influences my decisions and my work."
She added, "There were so many times in my life, y'all, where I did not see me. I couldn't see my light. I couldn't see past my circumstances. If you know my story, I wasn't supposed to make it out of Kansas City, Kansas, to be here tonight. I wasn't," said Monáe. "I didn't see the vision clearly for myself. I couldn't see my gift. I couldn't see what my purpose was supposed to be at that time. But thank you, God, so many other people did. They didn't give up on me, and they gave me opportunities despite my own lack of confidence."
Monáe concluded her speech with a call out to other people who may be doubting themselves in their life journey, saying, "I just want you to know that I see you—but I challenge you to see you."