Normani Confirms Doja Cat Collaboration Has Been "In Talks"
The two artists hinted at future collaboration on the 'Billboard Women In Music' red carpet.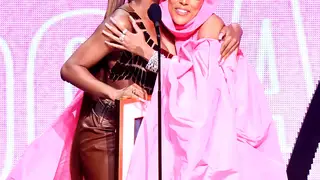 Normani has a lot of songs she may be sitting on to release, but it looks like a collaboration record with Doja Cat may see the day at some point this year.
During the Billboard Women In Music red carpet, the two famed musicians hinted at a potential collaboration record with the "Wild Side" artist sharing it's been "talked about."
Both pop stars have gained massive star power over the past two years and continue to solidify themselves as major players within the music industry.
The "Motivation" singer is gearing up for another single called "Fair," set to drop on March 18th with fans able to pre-save now.
The "Say So" star seems to be in high demand of collaborations as Azealia Banks recently shared her interest in collaborating with the multi-talented musician.
In her Instagram story, the "1991" lyricist invited Cat to "text her" as the deadline is "tight," hinting that a project may be set to drop soon.
Are we ready for some new music and eargasmic collaborations?