Bring That Week Back: Jerrod Carmichael Still Getting Backlash, Cardi B In Court And Wes Moore Makes History
Plus, a Congressional Republican was rumored to be a drag queen named Kitara.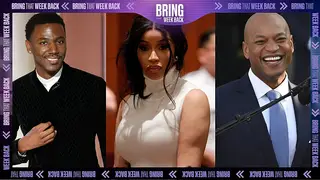 This week flew by with history being made in Maryland, Leslie Jones bringing us all joy and the ongoing saga of a Republican congressman who cannot stay out of the news. In case you missed it, we are bringing that week back.
Wes Moore Makes History

This week, Wes Moore made history when he was sworn in as governor of Maryland. Moore is only the third African-American elected as governor. The U.S. combat veteran said at the Jan. 18 inaugural ceremony, "As I stand here today, looking out over Lawyers' Mall, at the memorial to Justice Thurgood Marshall, it's impossible not to think about our history. We are blocks away from the Annapolis docks, where so many enslaved people arrived in this country against their will. And we are standing in front of a capitol building built by their hands."

Black Army Officer Awarded Less Than $4K In Police Brutality Case

In December 2020, Second Lt. Caron Nazario was in uniform when he was pulled over on his way home in his Chevy Tahoe from his duty station. When cops ordered him out of the car, he said he was afraid to get out of the car. The officer replied, "Yeah, you should be." Body camera footage showed the officers pepper-spraying, striking him in the knees, handcuffing him, and threatening to bring charges against him if he complained about their conduct. Nazario sued the officers for one million in damages for police brutality. Even though the incident was recorded both in body camera footage and on Nazario's cellphone, a jury only awarded Nazario $3,685.

New York Republican Congressman George Santos Insists He Isn't A Drag Queen

On top of a heap of reported lies, in 2018, New York Rep. George Santos was rumored by associates to be a drag queen named Kitara Ravache while in Brazil, according to Reuters. The report is ironic considering the attacks on drag performers among some GOP politicians and Santos supporting anti-LGBT legislation. Santos, the first openly gay Latino immigrant elected as a Republican to Congress, has denied the drag queen accusations but photos have surfaced (see above). Eula Rochard, who claims to have known Santos when he was Kitara, told Reuters, "He's changed a lot, but he was always a liar. He was always such a dreamer."

Cardi B Back In Court

On Jan. 17, hip hop superstar Cardi B appeared in front of a judge after failing to complete community service following her plea deal after pleading guilty to third-degree assault and reckless endangerment back in September 2022. In 2018, the 30-year-old MC was accused of ordering an attack on two bartenders at a gentlemen's club and was later arrested for her alleged role in the altercation. The judge granted her an extension to complete her 15 days of community service by Mar. 1.

CJ Harris, 'American Idol' Alum, Dies At 31

CJ Harris, a former American Idol contestant, has reportedly died. He was 31. According to TMZ, a family member said he suffered a heart attack on Jan. 15 in Jasper, Ala. He was taken to a local hospital where he was pronounced dead. Harris made it to the top six of American Idol in 2014. Fans of the show remember his audition in Salt Lake City, where he blew the judges away with his version of The Allman Brothers Band's "Soulshine." See the performance above.

Eric Murphy Celebrates His Girlfriend's 27th Birthday

The children of comedy legends are one of social media's favorite couples. Jasmin Lawrence, the daughter of comedian Martin Lawrence, celebrated her 27th birthday on Jan. 15. Eric Murphy, the son of Eddie Murphy, took to Instagram and wrote, "Thank you for being the LOVE of my life! Wishing you infinite love and blessings on your special day. I LOVE YOU so much!!" See the post above.

The HFPA President Reportedly Upset With Jerrod Carmichael Over His Golden Globes Monologue

The fallout continues over Jerrod Carmichael's edgy jokes as host of the Golden Globes last week. Helen Hoehn, the president of the Hollywood Foreign Press Association Press, was reportedly shocked and upset, according to The Hollywood Reporter. Allegedly, "multiple sources say Hoehne was seen being consoled by friends in the ballroom bar." The Hollywood Reporter also wrote that another source said, "The whole thing was so awkward and uncomfortable" and "the show needs to be fun, and it didn't feel fun." Jerrod Carmichael has not publicly commented on the latest report.

Leslie Jones Rocks 'The Daily Show'

With Trevor Noah no longer at The Daily Show, Leslie Jones took over the desk this week. She told CBS News, "I'm not Jon Stewart. I'm not Trevor Noah; I'm Leslie Jones. So I'll be bringing that vulnerable honesty. No assignment to me is ever different. It's always them asking for me. Pretty much what I come to deliver is me. So it's not really too much different than when I used to do updates at 'SNL' or doing standup, you know? It's all talking." Jones had several viral moments, but watch her hilarious remarks on viral liar New York Congressman George Santos in the video above.