Diddy And Steph Curry Drop Out Of Panthers Running As Bidding Price Hits Historic $2.5 Billion
The pair's majority partner, Michael Rubin, thinks the cost is too damn high.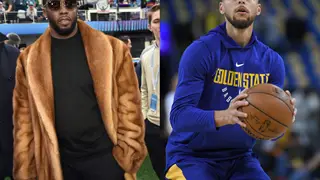 As the bidding war for the Carolina Panthers reaches a record breaking $2.5 billion, two people trying to bring more melanin to NFL ownership backed out.
Rapper and mogul Sean "Diddy'' Combs and Golden State Warriors All-Star Stephen Curry were in talks to be minority partners to Fanatics owner and billionaire Michael Rubin. However, when the price spiked, Rubin dropped out of the running, reported ESPN.
Although Rubin feels the rumored bid is too high, his interest in the team remains, as long as the price is right, sources close to the situation told ESPN. 
As all bidding process is confidential, sources could not confirm that the $2.5 billion bid is accurate; however, the Panthers are valued by Forbes at $2.3 billion. The record for the sale of a professional sports franchise in the United States is the Houston Rockets, who were sold for $2.2 billion in 2017.
When it was first announced that the Carolina Panthers would be up for sale, Diddy expressed interest in the team with an Instagram video. Curry later joined forces with the mogul.