Look: Woman Rents Out Movie Theater For Date, Guy Cancels, And You Won't Believe What Happens Next
Was her reaction a petty power move or just plain petty?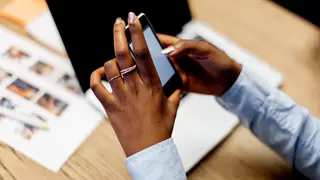 What would you do if you went all out planning a date only to find out it was all for nothing?
Writer Alia L. Moore recently experienced this and captured the entire exchange between her and the guy via iMessage. After he let her know that he was free all day, she made pretty grand reservations for their date, only for him to tell her that he couldn't get together a couple hours before they were scheduled to meet. 
She shared the conversation via Twitter, and even posted a response that got many talking after he asked how he could make it up to her.
You read right — she reserved the ENTIRE movie theater for a day after learning that he was free that day. After he told her he would be busy until later that night, she was understandably disappointed, but what happened after is what has the Twitterverse talking.
After explaining to him that he was just "one of four" men competing for her attention, some lost sympathy for her and felt like she was in the wrong just as much, if not more, than the guy was.
Some, though, were on her side, saying it's important to set those boundaries early on so signals aren't mixed.
So, with all of the debating going on on social media, we have to ask — What do you think?