Rappers Who Prove Hip-Hop Will Never Support a #MuslimBan
Not today, Trump.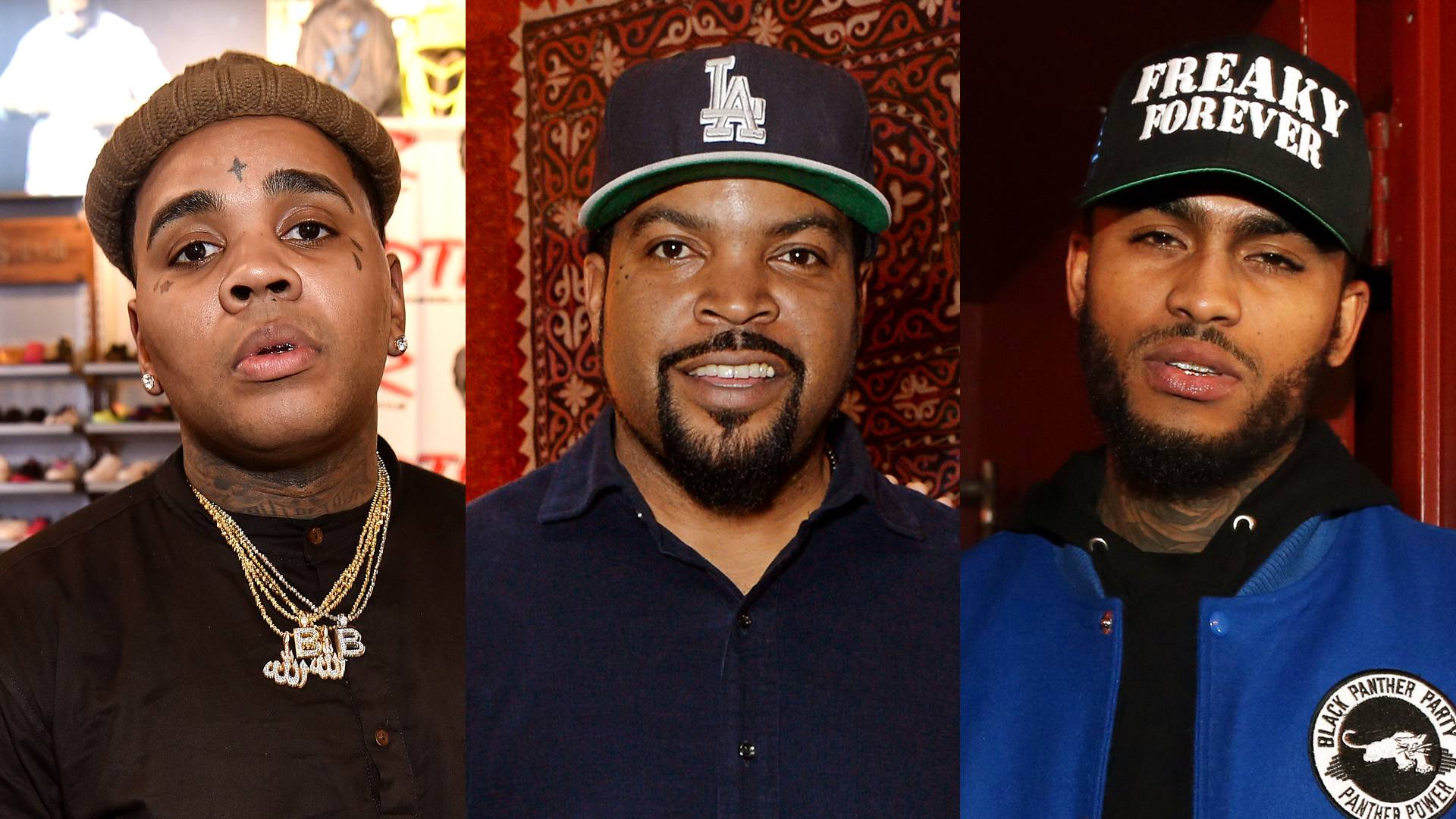 Donald Trump held true to one of his presidential campaign's most bigoted, anti-Muslim agendas on Friday (Jan. 27) and inked his name on an executive order that banned immigration from seven pre-dominantly Muslim countries.
The hailstorm of protests that ensued fleshed out hordes of demonstrations right outside of the White House in the nation's capital and major cities such as Boston, New York City, Dallas, Chicago, Baltimore and San Francisco. In defense of Muslim communities and other citizens of immigrant status, the argument was quite simple: No ban, no wall, America is for all.
Social media also flooded with stories of communities, families, friends and important entertainment figures, such as the Oscar-nominated Iranian film director Asghar Farhadi, that would be deeply affected by the ban. But among the decry, we couldn't help but to think of one other vital community with a rich share of the Muslim macrocosm as well: hip-hop.
From the unconventional practices of Ice Cube to devout followers of the faith such as Kevin Gates, much of the rap world has a vested interest in the religion and it's Islamic principles. But despite their Hollywood clout, even they stand the chance of being deemed one of the "others" under Trump's lamentable presidency. With heavy backing from the rest of hip-hop, they wouldn't be shunned away without a fight, though.
Here's 15 Muslim rappers who might have had America's welcome mat slipped from beneath them by Trump's executive order.  
Yasiin Bey

Exposed to the religion at the tender teenage year of 13 by his father, Yasiin Bey, also known as Mos Def, has long been a believer of the monotheistic faith. His decision to adopt the Nation of Islam, he said, even created his awareness of some of hip-hop's immoral tastes for sex, violence and drugs and helped him develop his voice into more spiritual, benevolent territory.

Q-Tip

As a Sunni Muslim, the A Tribe Called Quest member's belief in the faith was something he felt revived his spirit. Before cracking open and connecting to the Quran, the religious text of Islam, Q-Tip was of the spirit of a non-believer. "I read the Koran and it appealed to me," he told The Guardian. "At the time I was agnostic and it really breathed spiritually back into me," Q says of his conversion to Islam. "For me it's really a cushion, it's cool, I'm cool with it."

Ice Cube

According to West Coast rap star Kam, Ice Cube first caught wind of the Muslim faith once Kam shared his experience and information on the religion. Converting to the faith at the onset of the '90s decade, Cube shared with The Guardian that, though he had never actually entered the Nation of Islam, his approach to the religion is that of a more naturalistic tone. "I never was in the Nation of Islam," he said in the February 2000 interview. "I mean, what I call myself is a natural Muslim, because it's just me and God. You know — going to the mosque, the ritual and the tradition — it's just not in me to do. So I don't do it."

Swizz Beatz

Kevin Gates

The Louisiana-native and his wife, Dreka Gates, often share their experiences practicing the faith via social media after converting together. But by their testimony, being a member of the Muslim community had been a subconscious inherence. "We've unknowingly been Muslim our entire lives," they shared in a personal video. Expressing that their faith is a "way of life," the couple also said that the Christian church just wasn't a place where they received favorable spiritual vibes from.

Busta Rhymes

If his "Arab Money" single wasn't enough to demonstrate his knowledge of the religion, despite being banned due to its reference to the Quran, rap heavyweight Busta Rhymes has also been vocally fervent in his allegiance to the Islamic faith. "For me the most high is Allah," he said in a 2007 interview with Hollywood TV. "All praises due to Allah, lord of all worlds, the greatest, the beneficent, the merciful, the Most High, and I live my life by Islam."  

French Montana

Taking Trump's Islamophobia head on, French Montana recently shared his pious attitude toward the Muslim religion and its inclination for positivity. As Trump has denounced the faith by generalizing the terrorist group ISIS as a representation of the entire Muslim community, French explains that such biases couldn't be further from the truth. "If you really look into ISIS, 80 percent of the crime they commit is against Muslim people," he told XXL. "I feel like a lot of people don't know that. A lot of people is ignorant to learning about the Muslim culture, learning about what ISIS stand for. They stand for corruption."

Beanie Sigel

Beanie Sigel has been openly practicing Islam and balancing his career in music for ages, even incorporating his unique position in his music, once rapping, "Cuz I spit gangsta, think Muslim and act Kaffir." He and frequent collaborator Freeway have often discussed their day-to-day challenges due to the simple fact that their religion prohibits a certain lifestyle all too many rappers are encompassing in order to gain credibility.

"I dunno if Free remembers, but we had a conversation a while back," Sigel explained during a 2008 interview reflecting on finding conviction in his decision to practice Islam. "I was telling him something that was messed up for me. Free was like, 'You can't think like that. Sincere prayer is the only thing that can change your fate in whatever you do.' It stuck with me, until the day that I read it for myself. It made me feel better. It was taubah [seeking repentance]."

Dave East

Throughout the course of the past year alone, Dave East has positioned himself extremely well, going from a stereotypical rising artist trying to make a name for himself to becoming none other than the protégé of Nas. While all eyes are on him to see where his highly anticipated debut album and shiny Def Jam record deal will take him next, some may be surprised to learn that Dave East is also a proud Muslim.

Although he didn't take his Shahada until four or five years ago, the rapper shares that he's always been around Islam and his faith has keep him out of real trouble he easily could have gotten into during his teenage years. During a recent interview with Vibe, the New York emcee talks about how practicing Islam has provided him with a necessary discipline that living on the streets alone couldn't teach him. "It always brings me back to reality and keeps me humble. It changed my life," he declares.

Bas

Bas, one of the signees of Dreamville's tight rap circle, boasts a Sudanese background and Muslim faith upbringing. In an interview with XXL, the New York-bred rap star said that he and his family practice the religion, but it also had its contradictions. In that sense, he shared, he's gained new perspectives that he reflects through his raps.  

Akon

Sticking to his Senegalese roots, the St. Louis-born harmonizer is a devout follower of Islam. While certain facets of his faith have been the cause of slight controversy — including his alleged polygamy — Akon responded to Trump's #MuslimBan executive order with disdain. "Closing the US borders to our [brothers] and sisters abroad is a step back in time," he said.

DJ Khaled

DJ Khaled might be the hip-hop embodiment of the meaning of Islam: peace. The well-liked and inspirational producer boasts a Miami upbringing, but this was also coupled with Palestinian roots. In an interview with Rolling Stone, Khaled discussed raising a Muslim-American child (his adorable son Asahd) during this country's hateful times. "We're good people, and we don't entertain ignorance. It's the same as staying away from "they" — stay away from that ignorance. Love is the most powerful thing in the world."

Rakim

The God MC, born William Michael Griffin Jr., originally converted to Islam at 16, thereby changing his name to Rakim Allah. He later adopted the Five-Percent Nation belief system, founded by former Nation of Islam member Clarence 13X. "I love what I live and I live Islam, so I applied it to everything I do," he said in a 2009 interview. "I applied it to my rhymes and I felt that I wanted the people to know what I knew."

Lupe Fiasco

Lupe Fiasco is a practicing Muslim who credits his religion for helping him to correct the mistakes he's made throughout his life. During a sit-down with Katie Couric, the rapper shared that to avoid temptations glorified by the music industry, he simply surrounds himself with those who respect that he abstains from alcohol, smoking and other behavior that Islam prohibits, but also doesn't judge his friends or fellow rappers for their decisions, saying that at the end of the day, we're all human and we all have faults.

"Islam is a tool for personal improvement but not a means to look down on people," Fiasco shared when opening up about his faith.

Freeway

Philadelphia rapper Freeway converted to Islam at the age of 14, and years later, found himself being mentored by Beanie Sigel, who showed him how to navigate the hip-hop game early on in his career without compromising his faith. Throughout his career in music, he has become an inspiration to many, balancing what comes with the territory of being a rapper with his practice as a Muslim, something that isn't without much temptation and hard work.

Freeway also has previously shared how his faith has subconsciously influenced his music, explaining, "Fans can get more out of my music now because I have more of a message. I'm more conscious about what I say now because in Islam we believe that you're going to be held accountable for everything that comes out your mouth."