Kenneth 'Babyface' Edmonds Responds to Being Dropped From Anita Baker's 'Songstress Tour'
The award-winning singer/producer kept it short and sweet.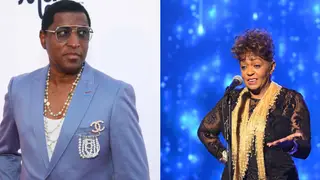 Last February, Anita Baker kicked off her "Songtress" tour in Florida with singer-songwriter-producer Kenneth "Babyface" Edmonds as her opening artist. But on Tuesday (June 13), Edmonds found himself responding to being dropped from the tour. 
Trouble started to plague the tour after a May 10th show which saw Edmonds being removed because of technical difficulties, which caused a two-hour delay. After this incident, Baker claimed that his fans have been ceaselessly troubling and taunting her.
"After Silently, Enduring Cyber Bulling/Verbal Abuse & Threats of Violence from the Fan Base, of Our Special Guest/Support Act. In the Interest of Personal Safety. I will continue, The Songstress Tour, alone. Appropriate refunds will be made. Blessings," Baker tweeted.
In an Instagram post, Babyface said he is "saddened" that he's no longer on the tour. "It's unfortunate and disheartening to see how things have played out via social media," he said. "While I was looking forward to the rest of the dates, I have nothing but love and respect for Anita and I wish her the best for the remainder of her tour."
Baker's tour is in celebration of her 40-year career and was titled after her "Songstress" album. The tour's last stop is Dec. 23 show at Oakland Arena.