Report: Steve Harvey Told Staff in Email to Never Approach Him
It's pretty harsh...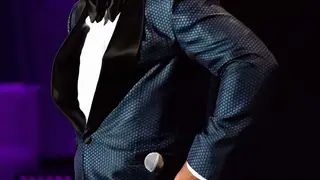 Steve Harvey may seem like a funny, people-ish person on television, but when the cameras are turned off, he may be a little different.
According to an alleged memo the comedian and TV host made to his previous staff in Chicago, you'll want to steer clear of Steve unless you're asked not to.
"Do not come to my dressing room unless invited…. Do not approach me while I'm in the makeup chair unless I ask to speak with you directly," the memo, which was posted on Robert Feder's Chicago media blog. "Do not take offense to the new way of doing business. It is for the good of my personal life and enjoyment."
Ouch. We all want our personal space, but this reads a bit harsh. Sources told PageSix that the memo was sent to Harvey's staff prior to the start of his show's fifth season. Starting this fall, the revamped program will tape in Los Angeles at Harvey's request and with a new crew.
It's been alleged that the memo was leaked by a now-former staffer who wasn't asked to make the move to LA and remain on the team. Steve Harvey hasn't yet responded to the alleged memo publicly.