Halle Berry Shares Workout As She Prepares For New Movie 'Never Let Go'
The award-winning actress invites you to watch her get film fit and set your own goals.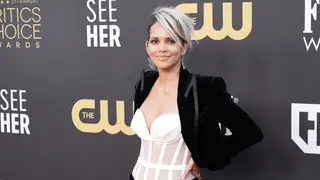 Halle Berry is getting ready for her new film "Never Let Go," and the actress invites you to be part of her transformation.
In a recent Instagram post, Berry can be seen putting in the hard work while being encouraged by her personal trainer Peter Lee Thomas.
The 56-year-old wrote," It's Friday and guess what? #FitnessFriday is back! Come join me as I @respin my FIT for a FILM. With this role, I face a physical challenge like never before. The film is called 'Never Let Go' and I'll be sharing the BTS of my fitness journey! But, you don't have to just watch, you can join in on the fun by setting your own #FitnessFriday goals, and sharing your journey with me 💪🏽
She continued, "I'll start the party here, Friday mornings. Then you can head over to @respin for my workouts, meal planning and recipes, vitamins, and supplements, my wind down and rev up, morning and nighttime routines, and of course, there will be lots of silliness!
The film, which was initially titled "Mother Land," is set to start filming in Vancouver this month per Hollywood North Buzz. The film surrounds a family who has been haunted for years, and now one of the kids questions if what they've experienced is real.
However, Berry is no stranger to putting in the hard work for a movie as she also did so for her the film "Bruised" where she played Jackie Justice, a disgraced MMA fighter who launches a comeback when the child she gave up re-enters her life.
Thomas broke down her workout for that movie to Entertainment Weekly, which included two-hour conditioning sessions at 7:45 a.m., mobility training, and combat prep. Sometimes the "John Wick 3," actress would also complete a Navy SEAL-inspired, 500-rep challenge with squats, pull-ups, and knee raises, with a one-mile run and the beginning and the end. "I do it because I know when she's on set, toe-to-toe with a pro fighter, she has to go the distance," Thomas told the outlet.
But Berry's fitness journey began way before then when she was first diagnosed with type 2 diabetes at age 22. In an interview with Instyle, she spoke about being a gymnast growing up and how she became more intentional about self-care and managing her nutrition and diet after being diagnosed. "It really transformed my life and taught me how valuable my body is," she told Instyle.