Halle Berry Snaps A Sultry Photo On Her 56th Birthday: 'Feeling So Much Gratitude And Love On This Birthday!'
Plus, boyfriend Van Hunt honors the actress with a montage of heartfelt photos.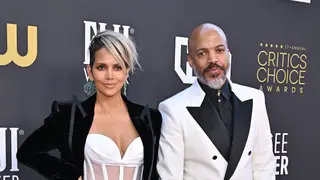 Halle Berry turned 56 in style. The Oscar-winning actress shared a photo on Instagram rocking smoky silver curls and flawless skin with a caption that reads: "Feeling so much gratitude and love on this birthday! WOW!" 
In the pic, Berry lounges on a couch outdoors, wearing a black lace bodysuit and gold earrings laddered up her ear. She may have turned 56, but she doesn't look a day over 30 with her skin glowing and soft curls swept over her eye.
The decorated actress also received love from her boyfriend, Van Hunt, on her special day. He honored Berry with a montage of photos on Instagram and a heartfelt caption that read, "Hi, baby. It's ur bday, and against ur wishes, I am screaming it to the mountaintops and celebrating with the world the wonderful, loving, funny, and life-giving force you are. Happy Birthday, boo. i love you with everything i got." See the sweet post here!
Happy Birthday, Ms. Berry!