Trump Slammed For Putting Lives At Risk By Ending Obamacare Subsidies In Executive Order
Several states have already vowed to sue the president over the dangerous act.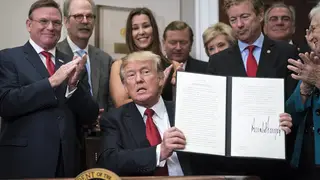 On Thursday, President Donald Trump signed an executive order which would stop federal subsidies that insurance companies used to provide lower-income people with health coverage. 
As if health care wasn't complex enough (although "nobody knew it could be so complicated"), Trump's order made the current congressional effort more confusing. Basically, Obamacare is not yet repealed. However, people who buy insurance independent of their employer could be greatly affected, reported the New York Times.
People could see a rise in their insurance premiums by up to 20 percent and some insurance companies could end up leaving the market. 
The order has already been met by great pushback from members of the House and Senators due to the likelihood that it will raise the cost for many Americans. 
House Democratic Leader Nancy Pelosi and Senate Minority Leader Chuck Schumer said  Trump's order is "spiteful" and they claimed "President Trump will singlehandedly hike Americans' health premiums," reported Buzzfeed News.
"Make no mistake about it, Trump will try to blame the Affordable Care Act, but this will fall on his back and he will pay the price for it," they said in a joint statement on Thursday. 
News of the executive order was met by much backlash on Twitter

Several states have already threatened legal action against Trump

Others seem to at least take comfort in the idea that Trump will not be able to blame Obama for failing healthcare