Kareem Abdul-Jabbar Once Diagnosed With Prostate Cancer, He Says In Op-Ed
The NBA icon is speaking out publicly about his diagnosis in order to bring awareness about healthcare disparities in the Black community.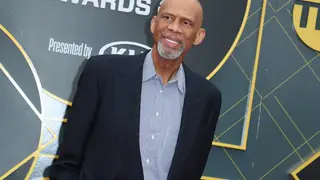 NBA Legend Kareem Abdul-Jabbar revealed that he has had a prostate cancer diagnosis, along with leukemia and heart surgery in an op-ed about health challenges facing Black people.
In the article for the online health magazine WebMd, Abdul-Jabbar wrote about the increased risks carried by Blacks for heart disease, diabetes and cancer. He said that he has been fortunate to be able to navigate those challenges, but that others in the community cannot and it puts them at greater risk.
"So far, in keeping with these statistical risks, I've had prostate cancer, leukemia, and heart bypass surgery," he wrote. "...I've been fortunate because my celebrity has brought me enough financial security to receive excellent medical attention. But while I'm grateful for my advantages, I'm acutely aware that many others in the Black community do not have the same options and that it is my responsibility to join with those fighting to change that. Because Black lives are at risk. Serious risk."
RELATED: BET News Special Highlight -- Kareem Abdul-Jabbar Shines a Light on Communities of Color
Abdul-Jabbar, 73, the iconic Los Angeles Laker, who is also the NBA's all-time leading scorer, did not expound further on the diagnoses or his course of treatments, choosing rather to focus on how these healthcare disparities impact the Black community.
He segued to the Black Lives Matter movement  and the awareness it has brought about police violence in the country, but said that Black Americans are also threatened by a healthcare system that has left them with inadequate treatment, compromising their livelihoods.
"...The more insidious and damaging threat to the health, lives, and economic well-being of Black Americans is a health care system that ignores the fact that, though they are most in need of medical services, they actually receive the lowest level," Abdul-Jabbar wrote. He then placed focus on the coronavirus pandemic and the health disparities it has revealed among Black people in America.
"The COVID-19 pandemic has highlighted just how malignant the system is. The virus has hit the African American community at a much higher and more devastating rate than it has the white community," he outlined. " At the same time, they receive a lower standard of care. The death rate for Blacks is 3.6 times higher than for whites."
Abdul-Jabbar encouraged the public to support better healthcare outcomes for Black Americans.
"It's as if the Black community is trapped in Groundhog Day in which every day we fight racism, prove it exists, see gains, and then wake up the next day to all the same obstacles. In the movie, Bill Murray escaped the cycle by becoming selfless, caring more about others' needs than his greedy desires," said Abdul-Jabbar. "That's how America will escape this self-destructive behavior. 
"The future of equity for Black Americans starts with physical and mental health, and as long as they are at the end of the line for services, true equity can't happen. Black lives have to matter in every aspect of American society if they are to thrive," he said.