Fans Up In Arms As Spice, Sean Paul Lose Grammy Award For Best Reggae Album
SOJA, a white band from Virginia, took home the award instead.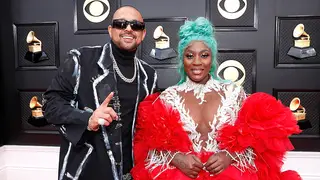 Predominantly white, Virginia-based Reggae band Soldier of Jah Army, known as SOJA, took home the 2022 Grammy award for "Best Reggae Album" for their seventh studio album, Beauty in the Silence.
The band initially formed in 1997, beat out five Jamaican nominees, including Dancehall Queen Spice, who was nominated for her debut album 10, dancehall veteran Sean Paul for his work on Live N Livin, Jesse Royal for Royal, Gramps Morgan for Positive Vibration and Reggae songstress Etana, who earned a nomination for her genre-bending project, Pamoja.
The win marks the first time an all-white Reggae band has won the award and the third time a non-Jamaican person or group has won in the Reggae category's 37 year history. During the acceptance speech, SOJA paid tribute to Jamaica, the homeland of Reggae.
"We wanna thank all our influences when we were growing up.  Starting our reggae band was kind of our dream and the only thing we wanted to do. And then one day people started coming to the shows," band lead singer Joseph Hemphill said. "To the founding fathers of reggae music into the island of Jamaica, you inspired us all.  Give thanks.  One love," another added.
However, the announcement did not appear to sit well with music fans who took to their social media platforms to air out their frustration, including one Twitter user who commented, "A lot of Jamaicans laughed and were flattered when Chet Hanks and Adele appropriated Jamaican culture, it opened the door for this blatant disrespect."
Another user wrote, "One thing yt ppl gon do is colonize, appropriate tf outta ppl culture, claim it as their own and profit the f*ck outta it. Soja winnin best Reggae album is a fucking insult #GRAMMYs."
"I'd encourage everyone to listen to that SOJA album before rushing to negative judgment. I cued it up on Tidal just now and I can honestly say I didn't make it past track two because it was hot garbage. But now at least I *know* I'm right," commented a third.
The 64th Annual Grammy awards aired Sunday (April 3) at 8 p.m. in Las Vegas for the first time at the MGM Grand Garden Arena, and commentator and comedian Trevor Noah.