Former Officer Requests For Patrick Lyoya Wrongful Death Suit To Be Dismissed Under Qualified Immunity
The African immigrant was killed by Grand Rapids police at only 26 years old.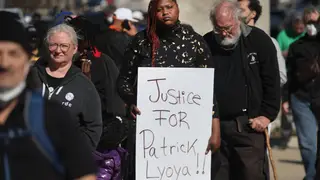 Christopher Schurr, the officer involved in the death of  26-year-old African immigrant Patrick Lyoya, is asking for a wrongful death suit to be dismissed under qualified immunity.
According to WOOD, Schurr's attorneys argued in a court filing that he is protected by qualified immunity, which shields law enforcement and government officials from civil liability when carrying out their duties, and claim he did not violate Lyoya's Fourth Amendment protections, "Schurr is entitled to qualified immunity because the videos demonstrate that Plaintiff cannot plead a constitutional violation nor a violation of clearly established law,"
The filing also claims it was "objectively unreasonable" for Schurr to shoot Lyoya, "The shooting death of Patrick Lyoya, although tragic, was objectively reasonable, and a product of an immediate threat of death or serious physical injury to the officer. The video demonstrates that the officer exhausted each conceivable response to Mr. Lyoya's escalating resistance before deploying lethal force. It also reveals that the officer did not resort to lethal force until confronted with the new, immediate threat created when Mr. Lyoya wrenched the TASER from the officer's hand and struggled toward a position from which he could use it."
Schurr, who is white, pulled over Lyoya on April 4 for having a license plate that didn't match the car he was driving. Lyoya, who was unarmed, stepped out of the vehicle and asked Schurr why he was stopped. "The plate doesn't belong on this car," the officer replied. What happened next was captured in videos from a passenger in Lyoya's car, home-surveillance system, as well as Schurr's dashboard and body-worn cameras.
Lyoya fled on foot and Schurr ran after him. The officer pulled out his taser and fired at him twice without success. Schurr caught up to Lyoya and sat on Lyoya's back. During the struggle, Schurr shot him in the back of the head.
According to CNN, Lyoya had three outstanding warrants at the time of the traffic stop, and an autopsy found that his blood-alcohol level was three times above the legal limit to drive.
Schurr was charged with second-degree murder. Last week,  a judge refused to dismiss the charge. The attorneys representing Lyoya's family are expected to oppose the dismissal of the wrongful death; they have until March 6 to respond.
Before immigrating to the United States in 2014, Lyoya lived with his family in a refugee camp in Malawi after escaping a violent conflict in the Democratic Republic of Congo.