Simone Biles, Denzel Washington To Receive Medal Of Freedom
President Joe Biden is scheduled to present the medals next week at the White House.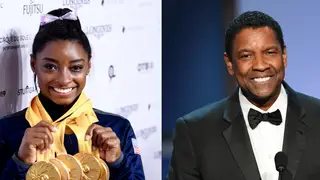 Joe Biden will reportedly present the Presidential Medal of Freedom, America's highest civilian honor, to 17 people, including gymnast Simone Biles, actor Denzel Washington.
According to the Associated Press, the late John McCain will also be honored, along with Sandra Lindsay, the New York City nurse who received the first COVID-19 vaccine dose in the United States.
The Medal of Freedom list includes both living and deceased honorees from the worlds of Hollywood, sports, politics, the military, academia, and civil rights and social justice advocacy, according to the AP.
The 46th President, who received the honor from former President Barack Obama toward the end of his administration, will present the medals at the White House next week.
According to the White House, the honorees who'll receive medals from Biden "have overcome significant obstacles to achieve impressive accomplishments in the arts and sciences, dedicated their lives to advocating for the most vulnerable among us, and acted with bravery to drive change in their communities, and across the world, while blazing trails for generations to come."
The honor is reserved for people who have made exemplary contributions to the prosperity, values or security of the United States, as well as world peace or other significant societal public or private endeavors, the White House noted, according to the AP.