The Connection Between Student Loan Debt And The Racial Wealth Gap
New report examines racial disparities and the $1.6 trillion debt crisis and its impact on Black families.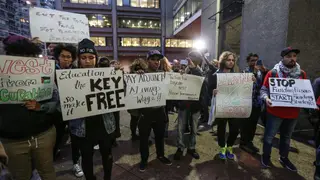 Using research centered around race, student debt and higher education outcomes for Black and white Americans, the report underscores the ways in which discrimination and structural inequities often shape the experiences of students of color.
Mark Huelsman is Associate Director of Policy & Research at Demos, where their mission centers around creating a just, inclusive, multiracial democracy. 
Huelsman told BET that researchers considered all angles from paying for college and accessing academic opportunities, to the job market with or without postsecondary credentials. They discovered that student debt and the racial wealth gap mutually reinforce each other.
"Education is supposed to be the great equalizer in America," said Huelsman. "Many students will say, `I can't afford not to go to school.' But lack of wealth requires Black borrowers to take on far more debt than their white peers and puts them at greater risk of default. And it creates a vicious cycle."
The report had several key findings:
"For too many years, the racial segregation that determined Black students' access to higher education went largely unacknowledged by policymakers," said Jen Mishory, a Senior Fellow at The Century Foundation, a non-partisan think tank that seeks to foster opportunity, reduce inequality, and promote security domestically and abroad.
"Within today's higher education finance structure, Black students are less able to pay for and enroll in college without loans," said Mishory. This has major implications on our economy, i.e. impacting the ability of graduates to purchase a home or car.  
The research makes clear, she said, that it's time for the U.S. to move away from a system so reliant on debt, towards one that is financed by public investment. It would not only benefit Black families, but create a more healthy and stable economy for all Americans.
Fellow researchers agreed, noting the use of student loans to finance higher education has exacerbated inequalities in the country's higher education system.
RELATED: The Complete Guide To Finding The Best College Scholarships – Just For You
Dr. Suzanne Kahn is Program Manager at the Roosevelt Institute, where policy work focuses on curbing corporate power and reclaiming public power.
"Today's policymakers have created a system where inequality, discrimination, and structural barriers for Black and brown people throughout the economy determine the cost and the scale of the ultimate financial pay-off of going to college," said Kahn. "It's time for policymakers to re-write these rules so that all students have fair and equal access to higher-education."
Adds Huelsman, "Given its economic and social value, higher education should be treated as a public good. We must recognize that public investment can build a dynamic, well-rounded, innovative population that benefits all of us."

Angela Rye's BET NEWS primetime special, Young, Gifted & Broke: Our Student Loan Crisis will air on BET on Sunday, September 15, 2019 at 8:00pm ET
The additional risks Black students face when taking on student debt are exacerbated by other disparities in the higher education system, including predatory for-profit colleges, some of which engage in race-based marketing.

Due to lower family wealth and racial discrimination in the job market, Black students are far more likely than white students to experience negative financial events after graduating. They may include loan default, higher graduate school debt balances, and higher interest rate payments.