Venus Williams Out At Wimbledon After Leg Injury
The championship tennis player came back after a fall, but could not hold on to her lead.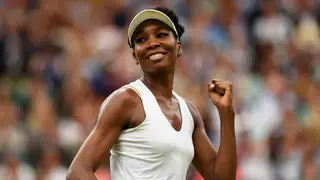 Seven-time Grand Slam tennis champion Venus Williams is out at Wimbledon after slipping on the grass court at the legendary venue.
ESPN is reporting that prior to the fall, the champion player was leading against Elina Svitolina. However, her right foot slipped and gave way. The 43-year-old went down clutching the knee which was already wrapped in a beige sleeve.
Williams persevered and returned to continue playing--but could not recover from the injury. The match was Williams' 24th appearance at Wimbledon.
"I'm not sure what I've done. I'm going to have to investigate it tomorrow. It's late today. But it was quite painful," Williams said. "Grass is inherently going to be slippery; you're going to fall at some point. It was just bad luck for me. I started the match perfectly. I was literally killing it. And then I got killed by the grass."
At a news conference, she added, "Right now, I'm kind of in shock. I can't believe this happened. It's bizarre. I'm still processing it at the moment. What makes this one hard to process is that I've had so many injuries. ... This is not what I want for myself."
In defeating Williams, Svitolina said, according to the sports news site. "it is always a pleasure playing against Venus. Grass takes a lot out of the legs and you have to bend your legs to get to all these shots. Venus plays really quick and I had to really work hard for today's win."
Williams later discussed how she has been able to play through injuries in the past.
"I'm a competitor," she said, the sports news outlet reports. "That's what I do for a living. I did what I could today. I've played through a lot of matches and won a lot of matches injured. It's kind of a specialty of mine. I just never figured it out today."