Jamie Foxx: Home Under Construction As Medical Condition Remains Unclear
The Academy Award-winning actor hasn't been seen since April when he suffered an undisclosed medical incident.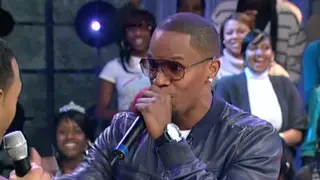 Construction is apparently underway at Jamie Foxx's sprawling $20.5 million dollar home in Los Angeles. According to Page Six, a large dumpster and other building equipment was photographed outside of the home, however, reps for the Academy Award-winning actor did not say what work was being done.
Foxx has owned the 17,000-square-foot estate in Hidden Valley since 2007. The home is said to feature 10 bedrooms, 12 baths, a formal living room dining area, game room, gym, gourmet kitchen, library, a recording studio and a five-car garage.
Foxx's daughter shared a statement to Instagram on April 12 saying, "We wanted to share that, my father, Jamie Foxx, experienced a medical complication yesterday, (April 11)," the statement reads. "Luckily, due to quick action and great care, he is already on his way to recovery.
"We know how beloved he is and appreciate your prayers. The family asks for privacy during this time," she continued.
Since the family has not disclosed further insights into the actor's condition. He reportedly received treatment at a physical rehabilitation facility in Chicago.
John Boyega, Foxx's co-star in the Netflix film, They Cloned Tyrone, recently shared that he had been trying to reach the 55-year-old actor. He has since said that they have spoken.
Foxx "finally picked up the phone." Boyega told PEOPLE, adding, "He's doing well. And  then, you know, we just giving him the privacy, and we can't wait for his return."
Boyega said he gave the 55-year-old Hollywood veteran well wishes "directly."  He continued, "I gave him all the well wishes. So I'm just gonna be waiting until he comes back out here. So take your time, Jamie. We love you, bro."
This week a source told PEOPLE, that Foxx is recovering. "He is getting the best care and working hard to recover right now, but he is still not himself," the source said, while adding, "He has the tightest circle around him."