3LW's Songwriters Continue Lawsuit Against Taylor Swift's 'Shake It Off'
"This case is giving voice to all of those creatives who can't afford to stand up and protect their work."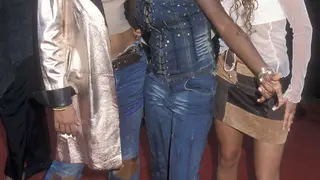 The legal case involving the songwriters of the 2001 hit "Playas Gon' Play" of the girl group 3LW versus Taylor Swift's "Shake It Off" has been reopened. Thanks to the Ninth Circuit Court of Appeals, the three-judge panel decided to revive the case on Monday (Oct. 28). 
Songwriters Sean Hall and Nathan Butler first sued Swift in 2017 after claiming that her 2014 "Shake It Off" mirrored lyrics from the early 2000s track, namely the phrases "playas gonna play" and "haters gonna hate," as reported by Rolling Stone. With its reversal, the Ninth Circuit judges cite that a 1903 Supreme Court ruling states on behalf of Justice Oliver Wendell Holmes that "It would be a dangerous undertaking for persons trained only to the law to constitute themselves, final judges of the worth of pictorial illustrations, outside of the narrowest and most obvious limits." 

Hall expressed his gratitude in a statement in response to the revival.

"We are happy the court unanimously sided with us," he said. "This case is giving voice to all of those creatives who can't afford to stand up and protect their work in the face of well-financed Goliaths."

A representative for Swift replied to Hall's sentiments, stating, "Mr. Hall is incorrect, the court did not unanimously side in their favor, the court sent the case back to the lower court for further determination. These men are not the originators or creators for the common phrases 'Players' or 'Haters' or combinations of them. They did not invent these common phrases nor are they the first to use them in a song. We are confident the true writers of 'Shake It Off' will prevail again."

The level of originality is a stance that the Ninth Circuit judges are reportedly considering when it comes to the protection of certain acts. 

"As we long recognized [originality] is normally a question of fact … Justice Holmes' century-old warning remains valid, as reported by the Rolling Stone, concluding with 'for such short phrases to be protected under the Copyright Act, they must be more creative than the lyrics at issues here,' the district court constituted itself as the final judge of the worth of expressive work."

3LW's self-titled debut album featuring "Playas Gon' Play" went on to be certified platinum by the RIAA after selling 1.3 million copies. The group was also crowned "Album of the Year" and "Best New R&B or Hip-Hop Artist."

Plagiarism claims and lawsuits dealing with lyricism and ideas have been widely looked into this last year. Rapper Juice WRLD's "Lucid Dreams" and punk-rock band Yellowcard's "Holly Wood Died" are battling a $15 million lawsuit looking into similar musical elements, and singer Lizzo was under fire for "Truth Hurts," where songwriters Justin and Jeremy Raisen allege that they co-wrote the song.