Noah Lyles Breaks One Of Usain Bolt's Unique 200-Meter Race Records
Lyles broke Bolt's record for most 200m races run in less than 20 seconds at the London Diamond League event.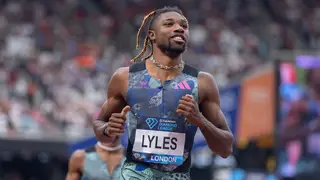 American sprinter Noah Lyles is making his claim to be one of the fastest men ever.
Lyles made history by breaking Usain Bolt's record for the most 200-meter races run in less than 20 seconds following his 19.47 time on Sunday (July 23) at the London Diamond League event, Olympics.com reports. His time was the third-fastest in the history of the race.
In a highly competitive heat, Botswana sprinter Letsile Tebogo ran 19.50, a new African record.  Zharnel Hughes of Great Britain, who was hailed the fastest man in the world last month after running a time of  9.83 seconds in the 100m at the New York City Grand Prix last month, also cracked the 20-second mark at 19.73sec.
Since turning pro in 2016, Lyles has completed 35 sprints in under 20 seconds eclipsing Bolt who retired in 2017 with 34 sprints under the 20-second mark.
Following the race, Lyles spoke about his incredible performance in an interview
"I said it was going to be fast. I told Zharnel he could easily break that British record and he smashed it," Lyles told the BBC. "The 200 will always be mine. She's my wife. Fourth 200 of the year. I'm not letting go of her. She's mine."
"My dad [world 4x400m relay gold medallist Kevin Lyles] grew up in that era racing against Michael Johnson, and I remember the Americans sweeping everything," he added. "Then we had to watch the Jamaicans dominating. I said to myself, 'When I get there I want to make sure the USA is dominating again'."
At the 2020 Tokyo Olympics, Lyles won the bronze medal in the 200-meter race. His gold medal victory on Sunday was his fifth for the 200-meter at this competition.