SMDH: Masika Kalysha Had The Absolute Pettiest Reaction To Alexis Skyy's Health Scare
Fetty Wap's baby mother has a well-established history of shade.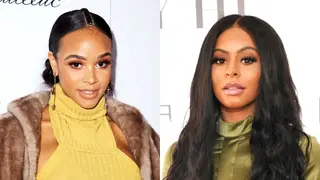 Welp, looks like we can't count the feud between Masika Kalysha and Alexis Skyy as one of the things we left behind in 2017. The two Love & Hip Hop stars, who both count Fetty Wap as their baby father, are at it again — this time with Masika sharing some completely unnecessary thoughts seemingly about Skyy's health scare.
Get more Love & Hip Hop news with BET Breaks, above.
Footage was recently leaked of Alexis arriving at the hospital after her water broke, prematurely. The clip showed her baby's father, Fetty Wap, also making his way to be by her side and this clearly seemed to anger Masika, who is also on the fast growing list of baby mamas attached to the rapper.
Throwing shade at Alexis, she wrote, "My ability to wish you well and not give a f**k about you at the same time is amazing."
She also seemed to throw a few jabs at the "My Way" rapper while she was at it.
According to theJasmineBRAND.com, as of Wednesday morning, Alexis is reportedly not having any contractions and her goal is to "not have the baby yet." She did reveal, however, that while their child will likely be born premature, she will be healthy.