Soul Train Awards 2023: 5 Fascinating Things to Know About Tank and The Bangas
Get familiar with the funky band from New Orleans.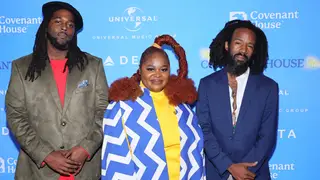 Tank and The Bangas is an eclectic musical ensemble hailing from the vibrant city of New Orleans. Born out of an impromptu jam session at an open mic night, Tank and The Bangas captivated audiences with their genre-defying sound and magnetic stage presence.
This year, the collective is nominated for "Best Group" at the "Soul Train Awards" 2023, hosted by Emmy Award-winning actress and singer Keke Plamer. Fellow nominees include Ronald Isley and The Isley Brothers, Jagged Edge, DVSN, FLO, Kool & The Gang, Wanmor, Maverick City Music, and Phony Ppl. 
Ahead of this year's house party celebrating R&B and soul, get familiar with this year's nominee, Tank and The Bangas. 
They have a unique origin story

Tank and The Bangas formed in New Orleans in 2011 from a spontaneous jam session at an open mic night at the now-closed Blackstar Cafe and Books. 

They sing about everyday experiences

The group's lead singer, Tank, is a spoken-word artist who encourages her fellow bandmates to sing about everyday situations like going to the grocery store. 

Their sound is a melting pot of genres

Tank and The Bangas' music defies easy categorization. The group draws inspiration from funk, soul, rock, hip hop, and even spoken word to create smash singles like "Nice Things" and "Communion In My Cup." 

They won an NPR Tiny Desk Contest

The band gained widespread attention after winning NPR's Tiny Desk Contest in 2017 with their vibrant performance. 

They're self-proclaimed Anime and Disney fans

Tank and The Bangas are self-proclaimed anime and Disney fans. Fans can see the influence in their live shows, marked by infectious energy, audience engagement, and improvisational flair.

"Soul Train Awards" 2023 premieres Sunday, November 26 at 8 p.m. ET/PT on BET and BET Her.