Miley Cyrus Basically Calls Nicki Minaj an Angry Black Woman
This year's VMAs host calls out the femcee for being "not too polite."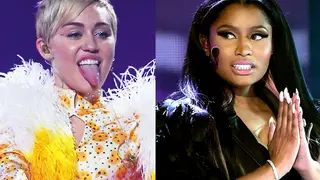 Do you feel the earth rumbling beneath your feet? That's the feud brewing between Nicki Minaj and Miley Cyrus. The singer, who will serve as host of the MTV Video Music Awards this weekend, called out the rapper over her misconstrued beef with Taylor Swift on the day the VMA nominations came out.
Speaking with the New York Times, Cyrus says that Minaj — who took issue with the exclusion of "Anaconda" from the Video of the Year category because she felt that "Black women influence pop culture so much but are rarely rewarded for it" — was being selfish when she made the remarks.
"What I read sounded very Nicki Minaj, which, if you know Nicki Minaj, is not too kind. It's not very polite," she says of the tweets. "I think there's a way you speak to people with openness and love."
Cyrus continues, "You don't have to start this pop star against pop star war. It became Nicki Minaj and Taylor in a fight, so now the story isn't even on what you wanted it to be about." 
It's worth noting that Minaj never called out Swift by name in her tweets, instead lamenting the music industry's exultation of videos featuring "women with very slim bodies." Swift, however, assumed Nicki was talking about her and clapped back at the rapper. The "Bad Blood" singer later apologized to Minaj for co-opting her larger point about discrimination and cultural appropriation.
Anyway, back to Miley's take on the situation: she goes on to say that Minaj should have adopted a softer, more conciliatory tone when talking about the decades of discrimination Black women in media have faced. "If you do things with an open heart and you come at things with love, you would be heard and I would respect your statement," says Cyrus. "But I don't respect your statement because of the anger that came with it."
Must be nice to live in a world of rainbows and unicorns, where a hug can resolve centuries of injustice. Keep an eye on Nicki's timeline to see the response that's sure to come.

Click here to enter the #LookYourSundayBest contest for a chance to win FREE natural hair-care products.
BET.com is your No. 1 source for Black celebrity news, photos, exclusive videos and all the latest in the world of hip hop and R&B music.
(Photos from left: Scott Barbour/Getty Images, Ethan Miller/Getty Images)