Two Dozen Protesters Arrested Over School Closures in Chicago
Two dozen protesters were arrested in Chicago in a demonstration opposing the closure of 54 schools in the nation's third-largest city.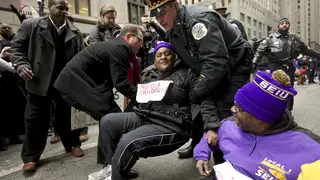 Anger over prospective school closings in Chicago has culminated in the arrest of two dozen protesters over a three-day period of demonstrations.
The protesters were calling for a moratorium on school closings in Chicago, which has the nation's third-largest school district. The school system has selected 54 schools to be closed which would be the largest school closing initiative in the country in years. The school board is expected to vote on the closures on Wednesday.
Officials of the public schools have maintained that the school closings are needed to help reduce the $1 billion budget deficit in the system. Furthermore, they contend that the school system would save millions of dollars by not having to operate and maintain dozens of buildings it considers underutilized.
The proposed closings have been highly controversial, with pressure from the teachers' union, community activists and elected officials to prevent the schools from being closed. The demonstrations even involved a student protest a month ago. In that action, a number of high school students boycotted a standardized test, saying that neighborhood schools were an important part of the fabric of the city and should be maintained.

"There are a lot of constituencies that are impacted by the closings of the schools, most significantly the teachers themselves," said Will Burns, a Chicago Alderman, in an interview with BET.com. "And so, there is a lot of emotion about this."

He said that there are teachers who are nervous about losing their jobs and parents who are concerned about the fact that their children might have to travel to different communities to go to school.

"When students have to travel to different communities in rival gang territories, there is a great concern," Burns said. "But there is also a sense that there is not much that can be done to prevent the closures from taking place."
The teachers union has reacted strongly to the prospect of the school closures.
"We can all see what the consequences of their decisions are going to be and who will be affected by this," said Michael Brunson, the recording secretary of Chicago Teachers Union. "We already have a problem with excess of violence in these communities where schools are being closed."
He added, "One thing anyone can agree with is that this is an assault on vulnerable communities that they feel do not have enough political clout to stand up and defend themselves."
Much of the anger in the protests was lodged against Chicago's mayor, Rahm Emanuel, who hand-picked the members of the school board. As they walked through City Hall this week, the protesters chanted "Hey, Rahm, let's face it, school closures are racist."
BET National News - Keep up to date with breaking news stories from around the nation, including headlines from the hip hop and entertainment world. Click here to subscribe to our newsletter. 
(Photo: REUTERS/John Gress)