Gabrielle Union Sends Words Of Support To Body Shamed News Anchor Demetria Obilor
"You are the real life Mary Jane."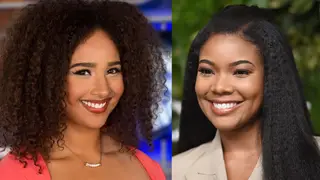 Social media went into a frenzy overwhelmingly coming to the defense of Dallas news anchor Demetria Obilor after a white misogynist body shamed her in a disgusting Facebook rant, claiming she was a "size 16/18 woman in a size 6 dress."
Since then, the Dallas WFAA Channel 8 traffic anchor has received love and support across social media lines, reassuring her that there is nothing abnormal about her look, and the latest to join the list is Being Mary Jane star Gabrielle Union.
The hater responsible for making an issue out of nothing is disgruntled Facebook user Jan Shedd, who took major offense to Obilor's natural body.
According to Ebony, since her original post went viral, she was brutally dragged to hell on the site, with her admitting that "the racist mafia did not appreciate the criticism and now they are harassing me." She then explained that she decided to go on a blocking spree to defend her misogynist bias after clarifying that she "didn't even notice that she was Black."
Since then Obilor's taken to social media, herself, to reiterate that she is proud of her body, her textured hair, and everything else she was born with, and one person who appreciated those words was Union, who dedicated a heartfelt and encouraging caption to whom she describes as "the real life Mary Jane."
Obilor, thankful for the actress' words, returned the compliment on Twitter:
Get more Gabrielle Union news with BET Breaks, above.