Matt Barnes Insists He and Rihanna Were Almost a Couple
NBA player says he's "too grown to lie" about dating the pop star.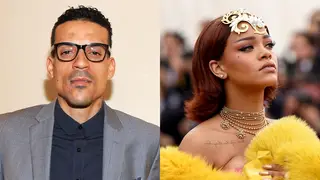 Last week, Rihanna shut down rumors that she's dating Memphis Grizzlies forward Matt Barnes in typical Rihanna fashion — by embarrassing him on the Internet. After the NBA player told TMZ that their relationship "just passed the 'crush stage' a little bit," RiRi was quick to skewer him with an all-hashtag Instagram post that very clearly stated that she's never even met Barnes.
Now, Barnes is calling bulls**t on her bulls**t-calling, telling Jim Rome that he was being truthful when he said something was brewing between him and the Bajan beauty. "I'm too grown to lie," he says, "you know what I mean? It is what it is, I'm going to let this blow by like everything else blows by…I just smiled. I just smiled, that's it. What can you do? At the end of the day, we're all grown-ups. Like I said, I'm too grown to be lying about stuff, but life is life. You live and you learn."
Now, we wouldn't blame the guy one bit for making up a fantasy about dating Rihanna — who hasn't? — but somebody's not telling the truth here. Maybe Barnes's estranged wife Gloria Govan would like to weigh in?
(Photos from left: Angela Weiss/Getty Images for David Yurman, Dimitrios Kambouris/Getty Images)