New Edition Biopic Miniseries Coming to BET
Johnny Gill, Ralph Tresvant and others will executive produce the three-part special.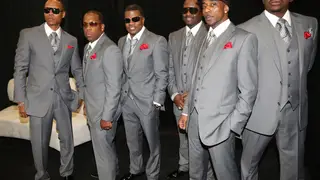 In the early 1980s, after the Jackson 5 and before the Backstreet Boys, New Edition owned the hearts of tween girls. The Boston group, comprised of Ronnie DeVoe, Ralph Tresvant, Bobby Brown, Michael Bivins and Ricky Bell, broke onto the scene with hits like "Candy Girl" and "Cool It Now," but the members soon moved on to solo projects and, in some cases, careers defined by controversy.
Now, BET Networks is collaborating with Jesse Collins and the members of New Edition for a three-part mini-series event based on the iconic group. Johnny Gill, who joined the group after Bobby Brown left, Tresvant, DeVoe, Bivins and Bell will all serve as consultants and executive producers on the project, which is slated to air in 2016.
"It's been a long time coming and that time is finally here! Now that we have signed the deal, New Edition's journey will be captured in a three night miniseries to tell our life story through our very own eyes," says New Edition in a joint statement. "We are happy to have New Edition Enterprises collaborate with BET Networks' Debra Lee and Stephen Hill along with Jesse Collins Entertainment. From our beginning in the Orchard Park Projects in Boston to Hollywood and everything in between, just like The Temptations and The Jackson Five — we are ready to retrace our footsteps and show everyone how we got here. For the fans all over the world, this one's for you."
Adds BET's President of Programming Stephen Hill, "Personally, my relationship with New Edition goes back to being among the first to play 'Candy Girl' on my college radio station, so I'm ecstatic that BET is the place where the guys wanted to come to tell their complete, dynamic story." Hill continues, "Everyone's been waiting for the New Edition saga to be told in all its triumphs and heartbreaks and we can't wait to bring it to the screen."
Check back for casting and director announcements in the coming weeks!
(Photo: Johnny Nunez/WireImage)