Harry Belafonte Appeals to Hollywood to 'Change the World'
Iconic star asks actors to "influence citizens everywhere."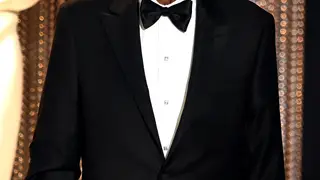 Harry Belafonte continues his crusade to bring celebrities into philanthropy. The actor and activist gave an impassioned speech at the Governors Awards on Saturday night, asking the Hollywood community to change the world for the better.
The 87-year-old icon made the appeal as he received the Jean Hersholt Humanitarian Award from the Academy of Motion Picture Arts and Sciences. He was one of four film titans to receive honorary Academy Awards.
"I really wish I could be around for the rest of the century to see what Hollywood does with the rest of the century," said Belafonte. "Maybe, just maybe, it could be civilization's game changer."
The actor was hailed as "the ultimate example of a great artist and lifelong social activist" by Susan Sarandon, who introduced him at the event.
Belafonte, known for his contributions to civil rights and the anti-apartheid movement, talked about the powerful impact film can make and called on the A-list crowd in attendance, including Danny Glover, Ron Howard and Warren Beatty, to bring a positive change.
"Each and every one of you in this room, with your gifts, your power and your skills, can perhaps change the way in which our global humanity mistrusts itself," Belafonte said. "Perhaps we as artists and visionaries can influence citizens everywhere in the world to see the better side of what we are as a species."
He continued, "to be rewarded by my peers for my work in human rights, civil rights and peace — let me put it this way, it powerfully mutes the enemies' thunder," said Belafonte.
The actor has not shied away from calling out fellow celebrities for falling short of their philanthropic responsibilities, most recently blasting Jay Z and Beyoncé for not doing enough to advance social causes.
During his speech, however, he kept things positive and focused on encouraging the rich and famous to do as much as they could for the world.
Click here to enter the Beyond the Lights sweepstakes and win an all-expense paid trip to Black Girls Rock!
Watch Kevin Hart in a new episode of Real Husbands of Hollywood every Tuesday, 10P/9C.
BET.com is your #1 source for Black celebrity news, photos, exclusive videos and all the latest in the world of hip hop and R&B music.
Click here to subscribe to our newsletter.


(Photo: Kevin Winter/Getty Images)