Don Cheadle: 'I Don't Think the Miles Davis Story Is a Black Story'
The actor talks his unconventional biopic Miles Ahead.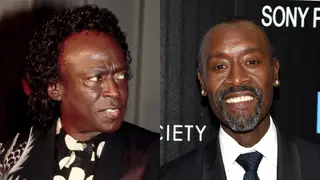 One of the first things Miles Davis says to a journalist in Miles Ahead, the biopic somewhat loosely based on his life, is, "if you're gonna tell a story, come at it with some attitude. Don't be all corny with this sh*t." 
Don Cheadle, who plays Miles in the film and also directed, co-wrote and produced it, took that advice to heart. Miles Ahead is anything but a standard biopic, and far, far from corny. Instead, it's a blurry, dizzy, stream-of-consciousness journey through a mind gripped by paranoia and self doubt, and it begins with a car chase — your first indication that this is not biopic business-as-usual. As far as we know, Miles was never actually in a car chase where he was shooting at a producer's bodyguard.
We hopped on the phone with Cheadle to talk about the decade-long journey of getting Miles Ahead to the big screen — lots of Ambien was involved — as well as his thoughts about racism in Hollywood and the backlash against Zoe Saldana for playing another jazz icon, Nina Simone. 
You made this film with the blessing of Miles Davis' family. I imagine it's a wonderful thing, but probably also adds some kind of pressure and constraint onto the process of making the film. Did you feel any of that?
It was kind of wide open, they were very forthcoming about his life to me. They allowed me to have access to the vaults, so to speak, and avail my self of materials that other people weren't able to see and didn't get. And just really threw the doors open. As far as the telling of the story, and the way the script was conceived, there were some times where we had a couple 'come to Jesus' moments and really had to figure out if this was the telling that it was going to be. But as far as any sort of warts or anything in his life ... to their credit, they didn't want to be the ones to go 'well, we're going to whitewash that.' I think it would have been a hit on the movie, I think, if we had attempted to be coy with the truth, in that way, or shy away with that stuff.
That said, you're very open about the fact that this isn't a traditional biopic, and only loosely based on the "truth," at least in terms of a sequence of events. It's a bold way of pushing the medium of the biopic. 
It was important to me to do something that felt like Miles as opposed to checking off a bunch of boxes and making sure that we hit all of the high points of his life and let everybody know all the important things he did. I wanted it to feel innovative, expressive and creative, and really feel like what I get from Miles Davis' life and his music. I want people to walk out of the theater and do their own investigating and really listen to his music. 
 
We see several sides of Miles in the film, from confident and in his element as an artist, to riddled with self-doubt and paranoia. That range of emotions seems essential to being an artist. As an actor and filmmaker yourself, is that something that you related to? 
Just because you're paranoid doesn't mean they're not out to get you. I think that clearly people were trying to get at Miles. During this period of his life, especially. When he was in seclusion, people were trying to discover what was happening and what he was doing, and get him out of that. There was a reporter at that time that wanted the scoop, and [the reporter] didn't know if they were going to be writing an obituary, or a comeback story. And I understand being in a place where you feel like you're not sure what your next move is, and what to say, and how you're going to be impactful in your art form. He was facing all of those things. 
 
Do you think great art is possible without suffering and self-destruction? Can you be a great artist and happy and well adjusted, or are those things mutually exclusive?
[Laughs] I think that when you're digging down into that stuff that allows you to produce that kind of art, you're tapping into your vulnerabilities, to the scary place where you're not guarded. That's the place that you create from. And if you're living down there all the time, like Miles was, so prolific for so many years, that's where he existed.
During this whole process of making the film and playing Miles what was your most vulnerable moment?
For three or four years, I was trying to hire another director to do [the film] and give that responsibility away because it was just so daunting. During the production, my wife saw me and said, "Oh you can never do this again. You're not doing something like this again." I wasn't sleeping, I lost weight, it was really just a huge undertaking. Everyday on the van ride, all we're talking about is how many hours of sleep did everybody get and what sleep aid is everybody using: "Oh I cut half a Lunesta and took a shot," and "Oh really well I usually smash up an Ambien and do a..." you know? I think there were many moments where I wasn't sure how I was going to finish it. I don't know if I'll ever do it like this again. I don't know if it was smart to do this, but it was the only way that it was going to get done, so, at the end of the day, looking back, I'm glad I did it. But yeah it was the biggest thing I've ever done for sure.
I read recently that you said Ewan McGregor's character [Rolling Stone journalist Dave Brill] was a device you created to get funding — that you needed a white co-lead in order to get foreign financing. In 2016, did it surprise you that the powers-that-be needed a white face to tell a Black story?
I think that's a bit of a misnomer. It wasn't that we need a "white face," in that we created a character for that very reason. There was always going to be a journalist who burst into Miles life to tell that story. I should have actually said, "We just need an international star," so it's not as binary as white person in a Black movie. The reason for that is the foreign markets, domestic market is a small part of what it takes to secure funding. You have to have a foreign component because that's the world and you want the movies to play overseas. Now if you're talking about why is there this belief that Black movies don't play overseas, that's a different question, and a different argument. And I know that people, when they go overseas to sell movies, often don't even pull that 'Black movie' out of the briefcase, because there's an indication that it's not going to work. 
And I don't think that Miles Davis story is a "Black story," he's a Black man, clearly, and that's obviously who he was, but he has an expansive background and story. 
Biopics are always subject to a higher level of criticism, even backlash, especially if the subject is beloved. We've seen Zoe Saldana get savaged for playing Nina Simone in the upcoming biopic Nina. Do you think that backlash is fair or do you defend her right to play Simone?
It's hard for me to fault an actor for taking a role and wanting to do what they do. And tell a story that they think is valuable and deserves to be told, and believe that they have something to bring to it. So I can't go in on Zoe Saldana because she said, "Yes" to this. But, maybe the fact that it was even something that was put together in that way deserves to have the conversation.
Miles Ahead hits select theaters on Friday, April 1. Watch Cheadle accept his Excellence in Arts award at BET's A Celebration of Hollywood, below:
(Photo: CORBIS, Jamie McCarthy/Getty Images)
BET.com is your No. 1 source for Black celebrity news, photos, exclusive videos and all the latest in the world of hip hop and R&B music.