The World's Highest-Paid Athletes 2021: 33 Black Athletes Made The List
Dak Prescott, Naomi Osaka and LeBron James topped the list.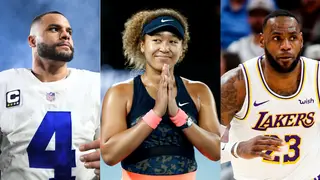 The world's 50 highest-paid athletes have set record-breaking numbers this year amid the coronavirus pandemic, according to Forbes. With the earnings officially set and released to the masses, 33 out of the 50 athletes are Black. 
From tennis superstar Naomi Osaka (#12: $60M), Dallas Cowboys' NFL quarterback Dak Prescott (#4: $107.5M), and Los Angeles Lakers NBA star LeBron James ( #5: $96.5M), these are just a few athletes who have made the list. 
According to the outlet, all 50 athletes have raked in nearly $2.8 billion in 12 months, with a little more than $1 billion coming from endorsement deals or other ventures. The athletes' income was tracked between May 1, 2020, and May, 1, 2021, thanks to information compiled by Forbes.
See the other Black athletes that made the list below:
Lewis Hamilton, $82M (#8)

Kevin Durant, $75M (#10)

Stephen Curry, $74.5M (#11)

Tiger Woods, $60M (#12)

Russell Westbrook, $59M (#14)

Patrick Mahomes, $54.5M (#15)

James Harden, $51M (#16)

Ronnie Stanley, $47.5M (#18)

Giannis Antetokounmpo, $47M (#19)

Klay Thompson, ($44.5M) (#20)

Kyrie Irving, $44M (#22)

Jalen Ramsey, $43.5M (#24)

Trent Williams, $43.5M (#24)

Myles Garrett, $43M (#26)

Serena Williams, $41.5M (#28)

Damian Lillard, $40.5M (#30)

Kylian Mbappe, $40M (#31)

Chris Paul, $40M (#31)

DeAndre Hopkins, $39M (#33)

Leonard Williams, $39M (#33)

Jimmy Butler,$38.5M (#35)

Marlon Humphrey, $37.5M (#36)

Paul George, $37M (#38)

Chris Jones, $37M (#38)

Anthony Davis, $36M (#40)

Aaron Donald, $36M (#40)

Matt Judon, $36M (#40)

Paul Pogba, $35.5M (#43)

Deshaun Watson, $35.5M (#43)

Shaquil Barrett, $35M (#45)