Report: Rick Ross Barred From Detroit Concert by Mob
Over 100 people allegedly blocked Rozay from performing at 107.5's Summer Jamz show.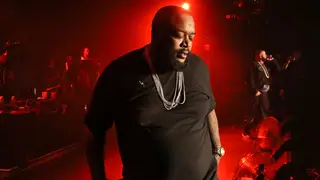 Rick Ross was reportedly turned away from performing at HOT 107.5′s Summer Jamz Concert Saturday night in Detroit by a mob of more than 100 people blocking his entry. The rapper, who was scheduled to headline the concert, was purportedly "in fear of his life" because of the spontaneous mob action.
Ross did not perform as scheduled, and HOT 107.5's program director, Jay Hicks, was left to explain his absence to the crowd.
"I'm going to be real with y'all; I'm going to be real as f***. We had Rick Ross right outside here tonight," Hicks said. "At about 11 o'clock, when he was pulling up to come into Chene Park, he was met by 100 individuals outside. We have tried to pull every resource together and asked him to come back. He is in fear of his life."
Hicks went on to say he is afraid the experience put Rozay off of Motown forever.
"And he may never come back to Detroit, and that's no bulls---," Hicks said. "This is some real s---. He was in fear of his life and he is not performing here tonight."
Ross later posted a tweet about the controversy calling it a "peace protest" and that there were "locked gates" blocking his entry. 
BET.com is your #1 source for Black celebrity news, photos, exclusive videos and all the latest in the world of hip hop and R&B music.
Click here to subscribe to our newsletter.