Oregon To Pardon An Estimated 45,000 Marijuana Convictions
"No one deserves to be forever saddled with the impacts of a conviction for simple possession," Gov. Kate Brown said in a statement.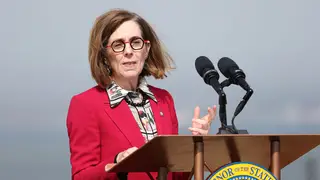 Oregon Gov. Kate Brown will pardon approximately 45,000 people convicted of simple possession of marijuana in the Beaver State.
Brown said in a Nov. 21 statement, "No one deserves to be forever saddled with the impacts of a conviction for simple possession of marijuana — a crime that is no longer on the books in Oregon. Oregonians should never face housing insecurity, employment barriers, and educational obstacles as a result of doing something that is now completely legal, and has been for years. My pardon will remove these hardships. And while Oregonians use marijuana at similar rates, Black and Latina/o/x people have been arrested, prosecuted, and convicted at disproportionate rates."
The statement continued, "We are a state, and a nation, of second chances. Today, I am taking steps to right the wrongs of a flawed, inequitable, and outdated criminal justice system in Oregon when it comes to personal marijuana possession. For the estimated 45,000 individuals who are receiving a pardon for prior state convictions of marijuana possession, this action will help relieve the collateral consequences arising from these convictions."
The pardon will only apply for possession of 1 ounce or less of marijuana in pre-2016 cases where the person was 21 years of age or older, and there were no victims.
The news comes just a month after President Joe Biden announced he would pardon all prior federal marijuana offenses. He also said that his administration would review if it should remain in the same category as LSD and other hard drugs. The pardons will clear those convicted of federal simple possession charges. The New York Times reports that approximately 6,500 people were convicted of simple possession between 1992 and 2021. The pardons also include convictions under D.C. drug laws.