Blac Chyna Has a Surprising Reaction to Someone Slamming Rob Kardashian
Didn't see this coming.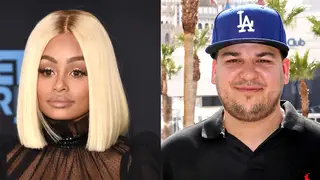 Rob Kardashian might be facing grave consequences for posting revenge porn against his baby's mother and former fiancée, Blac Chyna, but at least one of Dream's parents seems to have a mature head on her shoulders.
Chyna, who has long since moved on from Rob and is even exploring legal action against him, nevertheless had a surprising reaction to a paparazzo who shouted, "F*ck Rob," at her while she was climbing into her SUV following a club appearance.
In the video, after the paparazzo shouted the expletive, more people can be heard yelling, "F*ck Rob!" 
Chyna's response, rather than give them all a two thumbs up, was to defend her ex. "Hey, don't talk about my baby daddy like that," she shouted back.
Well done keeping it classy, Chy.
See how Chyna allegedly did get petty following her breakup with Rob with BET Breaks, above.