Black Kansas City, Mo. Cop Sues Police For Racially Profiling Him In Traffic Stop
Fellow officers had no probable cause and racially abused him, the lawsuit alleges.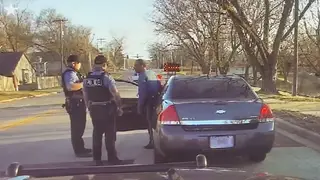 A Kansas City, Mo. Black police sergeant filed a lawsuit against the Kansas City Police Department and fellow officers alleging that two cops racially profiled him to conduct a traffic stop.
Sgt. Herb Robinson, a veteran KCPD officer, filed the suit in the Jackson County Circuit Court and alleges assault, false imprisonment, conspiracy and intentional infliction of emotional distress, WDAF reported April 21. 
It names the Kansas City Board of Police Commissioners, Officers Cole Modeer and Marco Olivas, as well as other department employees as defendants.
The police department declined WDAF's request for a comment on the lawsuit. A department spokesperson said the agency does "not generally comment on pending litigation to ensure fairness to all sides."
According to the lawsuit, around 5:30 p.m. on March 11, 2021, Robinson left work at KCPD to drive to an off-duty job when Olivas and Modeer spotted him. The two patrol officers followed him because of his race and ultimately stopped him to conduct a traffic stop.
The suit argues that the stop was unlawful since the two officers had no probable cause to detain him for violating any laws. During the stop, Robinson said the two officers made racially hostile and derogatory remarks toward him, and he never posed a threat to them.
Robinson experienced fear, anxiety, hostility, intimidation, mental anguish and emotional distress during the stop, the lawsuit states.
He reported the incident to KCPD officials, but they failed to take action, according to court documents. Robinson also alleged that the two officers provided false information about the incident.
Robinson is suing KCPD for employing officers who did not create a safe, enjoyable work environment "without fear of assault, racial profiling or retaliatory treatment," KSHB reported.
Meanwhile, Robinson remains employed with KCPD. He seeks a jury trial and monetary damages in excess of $25,000.