"The Wonder Years" Remake Canceled by ABC
The show was about a Black middle-class family in Montgomery, Alabama during the 1960s.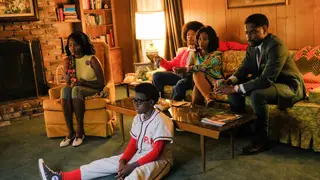 After two seasons, ABC has canceled the remake of The Wonder Years.
The series was a reimagining of the beloved 1980s show of the same name and featured a Black family navigating life and love in Montgomery, Ala. during the tumultuous 1960s, as seen through the eyes of 12-year-old Dean Williams.
The show starred Elisha "EJ" Williams as Dean Williams, Dulé Hill as Bill Williams, Saycon Sengbloh as Lillian Williams and Laura Kariuki as Kim Williams. Don Cheadle voiced the adult version of Dean.
Lee Daniels and Marc Velez of Lee Daniels Entertainment executive produced the series along with the show's original star, Fred Savage.
In the trailer for the debut of the series, Cheadle can be heard saying, "Twelve was the age I was gonna figure out what my bag was. I'd never be as popular as my sister, as smart as my mom or as bad as my dad."
"Some people didn't feel like we needed to mix Black people with white people — I didn't understand all that. But I decided what my bag would be: the great uniter."
The original Wonder Years aired for six seasons from 1988 to 1993.