Jussie Smollett Removed From Psych Ward
"Mr. Smollett was never restrained to a bed or anything else in the cell," says the Cook County Sherriff's office.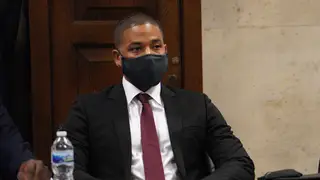 Former Empire actor Jussie Smollett has been removed out of the psych ward unit at Cook County Jail.
According to TMZ, a representative for the Sherrif's office confirmed that the tk-year-old was moved to different cell because "Cermak Health Services needed his cell for another detained person."
"Mr. Smollett was never restrained to a bed or anything else in the cell. The bed was never equipped with restraints," they added. " [He] remains housed in his own cell with officers stationed at the open door to his cell to ensure that he is under direct observation at all times. As with all detained persons, Mr. Smollett is entitled to have substantial time out of his cell in the common areas on the tier where he is housed."
On Monday (Mar. 14) Smollett's brother Jocqui updated the "Free Jussie" movement on his social media asked for fans to continueto continue to apply pressure to Cook County, TMZ notes.
"Cook County doesn't really move until they get bad publicity ... keep continuing to call Cook County Jail checking in on him and keep saying that you believe he should be free," Jocqui said.
BET previously reported that Smollett had been assigned a bed in the psych ward of Chicago's Cook County Jail where he's serving a five-month sentence on Saturday (Mar. 12).
The 39-year-old is serving five-months in prison after a conviction for a hate crime hoax. In addition to the jail time, he will have to pay $130,000 in restitution and serve out 30 months of probation. During that time span, he is not to leave the state of Illinois.
He started serving his 150-day-sentence on Thursday (Mar. 11).