Cyprus Researcher Reportedly Discovers New COVID-19 Variant
The new strain is a combination of the omicron and delta variant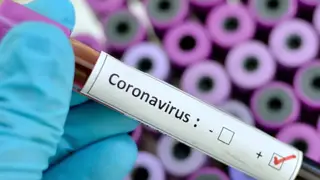 A researcher in Cyprus has been said to discover a new strain of the coronavirus this weekend. Leondios Kostrikis, professor of biological sciences at the University of Cyprus, has named the new variant "deltacron" since the strain shows genetic signatures and genomes from the delta and omicron variants.
Bloomberg News reported that Kostrikis and his team had found evidence of the virus in 25 cases; however, it is still too early to determine if there are more possible cases with the discovery.
In an interview with Sigma TV, Kostrikis believes that the omicron variant will eventually overtake deltacron. "We will see in the future if this strain is more pathological or more contagious or if it will prevail" against the two dominant strains, delta and omicron," he said.
Other experts such as Dr. Tom Peacock, a virologist at the Imperial Department of Infectious Disease based in Britain, have expressed their doubt on the alleged new variant stating that deltacron can be coinfections of both delta and omicron.
"Lots of reports of Omicron sequences carrying Delta-like mutations (eg P681R or L452R). Although a subset of these might end up being real, the vast majority will most likely turn out to be contamination or coinfection. No clear signals of anything real or nasty happening (yet)," he writes in a Twitter thread.
"As far as I understand it, these are appearing now for two reasons: 1) Lots of Delta and Omicron circulating in the same areas 2) Some older sequencing primer sets being less effective at picking up parts of Omicron so low-level contamination with Delta being selectively picked up"
The research team in Cyprus has sent their findings to GISAID, an international database that tracks viruses, for further analysis.