At Least 19 Children Killed During Texas Elementary School Mass Shooting; Gunman Ambushed 4th Graders
Two teachers and the shooter are also dead as a result of the horrific shooting at Robb Elementary School in Uvalde, Texas Tuesday.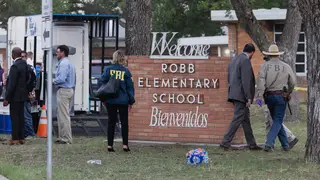 The death toll resulting from the mass shooting at Robb Elementary School in Uvalde, Texas has now risen to include at least 19 children, two teachers and the alleged gunman, according to state police.
The New York Times reports that state police identified the alleged shooter as 18-year-old Salvador Ramos, who had been a student at a nearby high school. The suspect shot his grandmother prior to abandoning his vehicle and entered Robb Elementary with a handgun and possibly a rifle, according to Texas Governor Greg Abbott.
At a Tuesday afternoon (May 24) news conference, Pete Arredondo, police chief of the Uvalde Consolidated Independent School District, said several adults and students had been injured.
"At this point the investigation is leading to tell us that the suspect did act alone during this heinous crime," Chief Arredondo said.
Officials say they have learned  the shooting took place in one fourth-grade classroom. Ramos, they say, barricaded himself in the room while trying to flee from police and opened fire on all the children inside. Abbot confirmed that he was killed by police. At least one officer was struck in the gunfire exchange.
Ramos' grandmother survived being shot and is being treated at a local hospital, according to the Associated Press.  The guns he was believed to have used are thought to have been posted on his Instagram account. Investigators are trying to find whether he made social media statements of any kind before the massacre.
Police are also contacting his relatives and gathering telephone and other records in an attempt to piece together the days and weeks leading up to the crime.
Tuesday's mass shooting is the most deadly at an American elementary school since the attack at Sandy Hook Elementary in Newtown, Connecticut in 2012, which killed 26.
The Times also reports that the superintendent in Uvalde said during the news conference that "the school year is done," and that all activities would be canceled this week throughout the school district.
The Uvalde shooting is the second most deadly school shooting in U.S. history. It comes nearly a decade after a gunman, identified as Adam Lanza, 20, opened fire at Sandy Hook elementary school in Newtown, Conn., killing 28 people including himself after the shooting and his mother just prior.
It also comes just 10 days after gunman Peyton Gendron, 18, traveled three hours from upstate New York to kill 10 people at the Tops Supermarket in Buffalo. Most of the victims were grandmothers doing their routine grocery shopping. One, however was a security guard who was killed in a gunfire exchange with the gunman. Gendron surrendered to police and is being held without bail.
At 145 days into the year, the United States has seen 213 mass shootings. It is a problem that has perplexed the nation over the course of decades and little has happened to steer the trend in a different direction. 
Politicians have tried for years to create more strict gun laws that make obtaining high powered weapons harder. However it has not been enough. Ramos, according to police, purchased his weapons legally.
New Jersey Senator Cory Booker has reacted to the shooting, saying, "I'm outraged, I'm hurt, and I believe that this could be our undoing, if we can't protect our children," and adding, "It's not a time for politics — it's a time to solve this damn problem," when asked if it was worth pursuing a vote on gun control without Republican support, according to the Times.
In an address to the nation just hours after the shooting, President Biden asked: "When in God's name are we going to stand up to the gun lobby? Why are we willing to live with this carnage? Why do we keep letting this happen?"
The speech came just a week after he had traveled to Buffalo to meet with families of the victims of that shooting. "I'd hoped when I became president I would not have to do this, again," Biden said. "Another massacre."