Trey Songz Reacts to Remy Ma Alleging He Had an Affair with Nicki Minaj in New Diss Track
He appears to find the whole thing hilarious.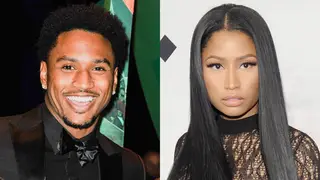 During the diss track, "ShETHER," Remy spits, "Mention guns, you Pussy Galore, James Bond/Only time you touch a trigga is when you f***ed Trey Songz," immediately inspiring the Internet to dive into the archives and try to pull up the receipts regarding the Bronx rapper's allegations.
Once fans began to digest the track, some users on Twitter discovered a tweet from 2015 where Trey denies the rumor that he slept with Minaj, referring to the claim as an "urban legend," and even addressing the situation directly with Minaj's then-boyfriend Meek Mill.
Regardless, once Trey Songz got wind of the drama that had been escalating on Twitter, he fired off a series of reactions, none of which pleased his friend and past collaborator, Minaj.
"Even when you stay out of the way they will have ya name all in some s**t," he posted vaguely on Twitter. "Wake up to new comedy everyday focus."

Minaj wasn't too happy to hear what Trey had to say following Remy Ma namedropping him in the song, responding, "Lol. Wut u SHOULD b saying is that it's not true, seeing as it's not. Real n****z do real things. I done gotchu 6 million plaques."
From there, Trey fires back that he had responded on Instagram (in a post that has since been deleted) claiming that he never slept with the rapper, a message in Minaj's defense she must have missed. 

"U shouldn't have posted Smthn indirect in the first place," Minaj clapped back. "N****z out here indirectly lyin on they dick now. bless your heart."
Although Minaj quickly deleted her tweets, Trey responded furthermore, reminding her of what's really important right now, saying, "you need to be mad at Remy Nicki."
He then went on to share a handful of other reactions to the whole situation, essentially finding the whole thing to be hilarious entertainment, all while the Internet overall continued to roast Minaj for addressing Trey before dealing firsthand with the Remy situation.
What a time. We have a feeling things are going to continue getting even messier, now that Minaj has the ball in her court and it's her move next. We're more than ready for it, too.
Take a look at Trey Songz and Nicki Minaj going at it with one another in the posts below.