Actress Krys Marshall Welcomes First Baby
The 'For All Mankind' actress and husband Ted Dolan shared the exciting news on Instagram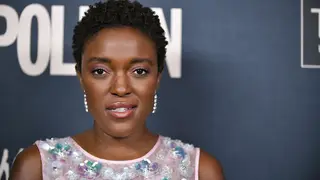 Actress Krys Marshall best known for her role as astronaut Danielle Pool on the Apple TV+ series, For All Mankind, has announced that she is a new mom.
Marshall and her husband, real estate developer Tim Dolan shared the exciting news on Instagram, writing, "Safe and sound, Earth side," as the caption on a set of pictures with no additional details shared by the couple.
Marshall previously told PEOPLE that she and Dolan had been traveling before the arrival of their first child together.  "Ted and I really love to travel and had trips planned long before knowing I'd be pregnant. So far the baby has been to Paris, Nairobi, Amsterdam and Vancouver all before being born," Marshall said.
She and Dolan have also been cultivating a close network of friends in Los Angeles, as their large families live outside the area. "He's from Palo Alto, and I'm from Atlanta, so neither of us has family here in L.A. But that hasn't stopped us from creating a massive network of 'framily' who come over for our famous Sunday Suppers, where we eat, drink and play games."
Marshall added that she and Dolan were "beyond thrilled to become parents."
"The timing couldn't be more perfect because the baby will come during the hiatus of my shows. We'll have all summer to nest, rest and soak in the sun before I return to work."
The first three seasons of For All Mankind are currently streaming on Apple TV+.