'The Inspection' Trailer: Jeremy Pope, Gabrielle Union, Bokeem Woodbine Star In The New A24 Film
In Elegance Bratton's extremely touching film inspired by his own story, a young, gay Black man rejected by his mother joins the Marines.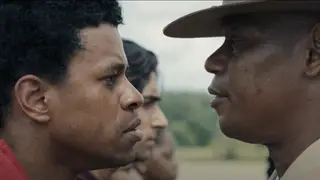 The first trailer for A24's next drama has arrived, and it will tackle some weighty issues while telling a story based on the director's personal experiences. Written and directed by Elegance Bratton (Pier Kids), The Inspection tells the story of a young gay man who enlists in the Marines after being abandoned by his mother when he was a teenager. Ellis French will be played by Jeremy Pope of Pose and One Night in Miami fame, and Gabrielle Union stars as Ellis's mother, Inez.
In the much anticipated film, Ellis falls for his superior (Ral Castillo) while in training, but must deal with the anger of his sergeant (Bokeem Woodbine) after his sexual orientation is revealed.
Bratton's semi-autobiographical film will premiere at the Toronto International Film Festival.